The Jiu Jitsu community were in for a surprise when last year the Danaher Death Squad separated. The split created two new groups, New Wave Jiu Jitsu and B-Team Jiu Jitsu.
So, what do you need to know about B Team? We'll give you the lowdown on how they came to be and their plans moving forward.
Who Owns B Team Jiu Jitsu?
Who founded the B Team? The four founders of the B Team include: Craig Jones, Nicky Ryan, Nick Rodriguez, and Ethan Crelinsten. They are based in Austin, Texas.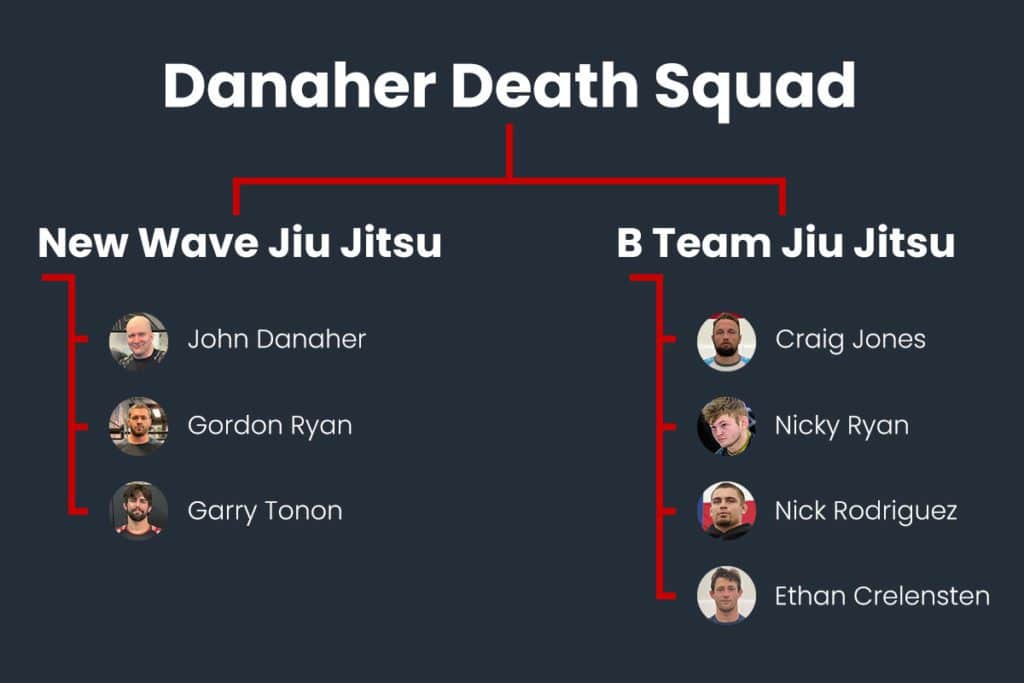 When was the B Team founded?
The B Team was founded in 2021.
B Team Jiu Jitsu Members
Craig Jones
The most famous member of the B Team grappling competition team is Craig Jones from Australia. He became a fan favorite after his great performance at ADCC 2016 and has since had many other impressive finishes, almost winning ADCC gold in 2018.
Nick Rodriguez
Nicky Rod was the young phenomenon on the DDS team. In 2018, after less than a year of Jiu Jitsu training, he nearly took home ADCC gold. He's only gotten better since then and is continuously developing his Jiu Jitsu game plan.
This year was his third time trying to win ADCC gold, but unfortunately, he lost to Meregali in the finals. In an interview, he said: "My pacing was off. I was grappling with pure emotion. I was too aggressive, really fatigued myself."
Nicky Ryan
Nicky Ryan's departure from his brother and John Danaher came as a surprise to many observers. Since he was a teenager, Ryan has been consistently beating the world's best grapplers and winning titles.
It seems like he wants to strike out on his own now and establish himself outside his brother's shadow. We'll all be watching keenly to see what he does next.
Ethan Crelinsten
Ethan Crelensten is a former student of both Firas Zahabi and John Danaher. Crelensten, though not as well-known as his teammates, played a vital role in B Team coming together. He is a remarkable competitor himself and one of the team's main coaches.
B Team Jiu Jitsu Price
It's $50 for one class (purple and up).
/u/WarTill mentions that it cost him $200 for 5 days ($40/day).
/u/Mechanical-Cannibal reports that it costs $300 per month if you're selected to train with the B-Team.
B Team Jiu Jitsu Drop In
To sum it up, the B-Team decided that drop-ins who are at least purple belts, as well as high-level wrestlers and mixed martial artists fighters, will be allowed. For all of these instances, exceptions included, the BJJ practitioners must first have approval from the B-Team. Also, the mat fee for drop ins is $50 per training session.
Craig Jones explained the decision-making process behind this decision in a Reddit comment:
It's about the level of techniques being taught, not anything to do with competition experience.

We had 700 people apply so we wanted to build a gym from the top down. We will accept groups of people at a time. Blue belt will be next.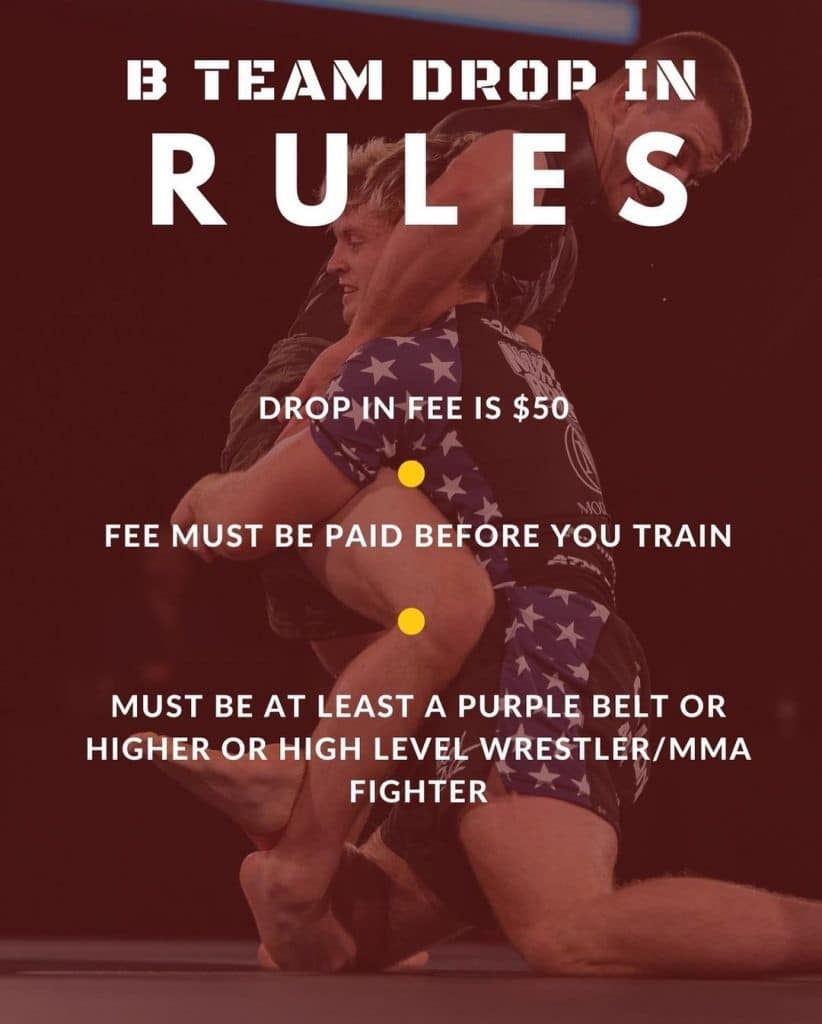 B Team Jiu Jitsu Schedule
According to their website, here's the schedule as of November 2022.

B Team Jiu Jitsu Merch
I've googled around and found this website that sells the B Team gear.
B Team Jiu Jitsu Rash Guard
You can get their rash guard by clicking this link:
B Team Jiu Jitsu T-shirt
You can get their t-shirt by clicking this link:
B Team Jiu Jitsu YouTube
The team has an active YouTube channel where they post vlogs and rolling sessions: https://www.youtube.com/c/BTeamJiuJitsu
B Team Jiu Jitsu Instagram
You can take a look at their Instagram right here: https://www.instagram.com/bteamjj/