A great variety of BJJ gis on the market today may seem a bit confusing, especially if you are a newcomer, and it is your first gi. As for experienced Jiu Jitsu practitioners, buying a new gi may look like a more common thing. However, both types of readers might benefit from my research.
As an experienced BJJ practitioner who has to buy a new gi frequently, I can provide you with some tips to help get a kimono. I further discuss what is most suitable for you in terms of price, materials, colors, requirements, overall look, and usability.
This article can serve as a practical guide meant to bring balance between cheap and expensive, gis for training and competition, for beginners and advanced players.
The Best BJJ Gi in 2022
Here are the gi models that are popular in 2022 among Jiu-Jitsu practitioners:
Fuji Suparaito Gi
The Fuji Suparaito Gi is perfect for those who are looking for a lightweight gi that is durable and comfortable. With triple-reinforced ripstop pants and a stiff collar with extra rows of stitching, this gi will withstand any training session. The bungee cord drawstring ensures a secure fit, while the contrast stitching adds a touch of style. The pearl weave fabric is soft and breathable, making this gi ideal for both competition and training. Available in white, black, or blue.
Pros:
Lightweight gi made with pearl weave
Triple reinforced ripstop pants
Multi-layered stitching for durability
Available in white, black, or blue
Cons:
Can be tight around thighs
Storm Kimonos Stealth Matrix II Gi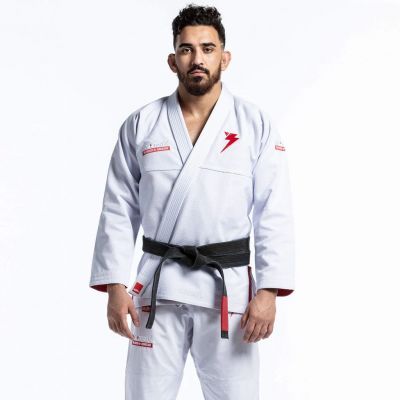 The Storm Kimonos Stealth Matrix II Gi is the perfect choice for those looking for a durable and comfortable Brazilian Jiu-Jitsu kimono. Made of 420gsm Storm proprietary Japanese Weave Fabric, this kimono is built to last and provides superior comfort in training or competition. The pants are made of Featherlight storm proprietary Breathe Tech Fabric, which is ultra-resistant and breathable, making this kimono perfect for intense training sessions. With a Zero Warp Collar and hidden mouthguard pocket, the Stealth Matrix II Gi is also extremely stylish, making it an excellent choice for competition or everyday training.
Venum Contender Evo BJJ Gi
Looking for a top-quality Gi that won't break the bank? Look no further than the Venum Contender Evo BJJ Gi-White - A2.
Constructed from durable cotton, this Gi is built to withstand even the most intense training sessions. The 350 gsm pearl weave jacket and 230 gsm ripstop pants are both extremely breathable and comfortable, making this Gi perfect for long days at the academy. Plus, the inner custom woven tape and inner jacket screen print add a touch of style that will make you stand out on the mat.
Whether you're a beginner or a seasoned pro, the Venum Contender Evo BJJ Gi is a great choice for anyone looking for an affordable, high-quality Gi.
Pros:
Pre-shrunk Gi
Multiple color choices
Minimal design
Cons:
Tatami Fightwear Estilo 6.0 Premium BJJ Gi
The Tatami Estilo 6.0 has received a lot of positive reviews. It seems that Tatami has collected all the positive feats from their previous gis and combined them all to create a perfect product that inspires athletes.
This gi looks excellent with every detail thought through; they feel like neither too much nor too little. The prints and embroidered Tatami and Estilo logos are not intrusive either.
The woven tape lining in the cuffs and the base of the jacket adds a nice touch. This gi provides freedom of movement. However, the pants can stick to the legs, especially when I squat down or kick the legs out.
Pros:
The gi feels excellent and is very comfortable.
The jacket is suitable for athletes with longer arms.
It is very durable with its pearl weave.
There are attractive colors and superb details.
Cons:
Pants might stick to the legs.
The gi may feel a bit heavier than other models.
It can be too warm for hotter summer days.
Fuji BJJ Uniform
FUJI– All-Around BJJ Uniform – BJJ & Jiu Jitsu Gi
BJJ Gi: FUJI BJJ Gi (kimono) is the best-selling and most trusted Fuji Gi (kimono) in the...
Jiu-Jitsu Uniform: Mid-weight with stiff, thick collar and multi-layered reinforcement across...
Cotton Blend Kimono: The pants of the BJJ Kimono are a premium cotton blend twill pants with a...
All technicalities aside, this gi is super comfortable, durable, and well-fitting. It works well both for practice and competition. Many best Jiu Jitsu experts trust the Fuji BJJ Uniform, and it is among the most popular Jiu-jitsu garments on the globe.
Pros:
It is super durable.
Steep price for a high-quality garment
The garment is very reliable and trusted.
Cons:
It is a bit too heavy for hot weather conditions.
Shrinks in the dryer
Sanabul Core Series Competition Gi
Sanabul Core Competition Brazilian Jiu Jitsu BJJ Gi...
The Perfect Fit: We take the guesswork out of sizing. Our Core series gi are the only preshrunk...
What's in Your Core? When you started training, the gi you wore was the last thing on your...
Tested by Pros, Created for You: Some of the top competitors in the world rep Sanabul, like...
There are many attractive details in the Sanabul Core Series Competition Gi. Cross stitching on the pants, embroidered logos, and a denser weave in the upper part look elegant and reliable. There is no loose material on this gi for an opponent to grip either.
As a fierce competitor to Fuji, they've improved this gi and launched the pre-shrunk Essential v2 model, which has already sold over 2000 times on various platforms!
Pros:
The design is elegant and attractive.
It is very lightweight.
The gi is highly durable and long-lasting.
The best price:quality ratio.
IBJJF certified and acceptable for both training and competition
Cons:
It shrinks when washed in hot water.
The sizes may not correspond to the body parameters.
Hayabusa Lightweight Jiu-Jitsu Gi
Hayabusa Lightweight Jiu Jitsu Gi - Blue, A5
MATERIAL: Jacket: 420-gsm pearl-weave cotton, Pants: 8oz ripstop cotton-polyester blend with...
DURABILITY/QUALITY: The lightweight gi has reinforced seams to withstand years of strenuous...
FEEL: The premium fabric was stitched using a pearl weave, which is light, durable, and perfect...
The Hayabusa Lightweight gi is the best for training and competition. A versatile gi for all styles of Jiu-Jitsu. Prepare for whatever comes your way with an all-purpose gi built for an unpredictable sport. Its lightweight design is cool, comfortable and allows you to move effortlessly on the mat. The rugged construction withstands your most intense training sessions.
Pros:
It has a traditional, simplistic, and elegant look
Reinforced stitching for increased durability and strength
The gi is lightweight and suitable for training in warm weather
Cons:
The gi is not tapered, can look a bit baggy.
The pants can get loose with time.
The material may fade and shrink after a while.
Gameness Jiu-Jitsu Pearl Gi
No products found.
All in all, the model of the is exceptionally comfortable, durable, affordable, nice-looking, and reliable. If you are looking for a BJJ gi that could withstand hard training sessions, keep you from overheating, and last for a long time, this choice is right for you.
Pros:
Durable and reliable
Lightweight and keeps you cool
Excellent price-quality ratio
Cons:
Pants may appear stiff and tough
Might shrink after washing
BJJ Gi Buyers Guide
As a person who has been doing Jiu Jitsu for many years, I understand the worries of people who want to shop for the best Brazilian Jiu-Jitsu gi online. The main concern is fit and design because sometimes we can receive a form that completely differs from what we have seen online.
The traditional BJJ gi is a lightweight piece of clothing that consists of three parts: loose-fitting pants, a jacket, and a cloth belt, and you need to know about it to make the best choice.
The next step is about deciding what type of BJJ gi you need. A good gi should be both lightweight and durable to last in hard sparring. Jiu Jitsu sessions are usually quite intensive, and your garment needs to preserve your comfortable body temperature and withstand all types of damage. Another thing is that your BJJ gi should not restrict movement though it is required to be of a slim fit and feel tight.
Also, other factors can influence your choices, such as color, material and weave, collar fill, and cost. Let's examine all of them in detail.
Don't forget to get a mouth guard!
Cost
Price is essential because your new Jiu-Jitsu gi must not cause a disaster to your wallet. It should be worth the money spent on it. I once bought a 40-dollar BJJ gi from Decathlon, and it was horrible. This was my first year of training, I was not sure that I would continue, and I would rather not waste my money.
The typical price for a BJJ gi ranges from $40 to $400. Popular brands such as Sanabul or Fuji start at $50, while Origin begins at $150 and goes up to $300. This price fluctuation may seem strange, but there are reasons for that. So, if you are a beginner and not 100% sure that you want to continue, look for a cheap BJJ gi.
Keep the price-quality ratio in mind.
Color
The typical Brazilian Jiu-Jitsu colors of gis that are accepted by the International Brazilian Jiu-Jitsu Federation are white and blue. Keep that in mind if you are planning to compete.
However, many manufacturers nowadays have started making gis in different colors. If you would rather not compete and need a BJJ gi just for training, you can choose any.
Fit and Shrinkage
All gis fit differently around the chest, waist, and shoulders. Some of them shrink much, and others are pre-shrunk.
The sizes vary from A0 to A5, where an 'A' stands for 'adult.' These are the most common sizes. Make sure to check the size chart provided by the brand.
Every gi also has its rate of shrinkage. That's how much a gi shrinks after washing. The smaller the shrinkage rate is, the better a gi will fit after you wash it.
Collar Fill
Usually, gi collars are filled with rubber or cotton. Rubber is a more popular material for the collar. However, cotton is more appreciated by some players because it feels more comfortable. As for rubber collars, they can make you more vulnerable to collar chokes. Their most significant advantage is their resistance to bacteria that are harbored in millions by cotton collars.
Different Types of Weave
The type of weave for your best BJJ gi is also essential. They differ in quality, durability, and breathability. The choice of the weave is a matter of comfort and durability for most. It's not fun to roll with a double weave in hot weather; this, I know for sure!
Single Weave
The single weave is for the most inexpensive gi's. Such garments are lighter and very basic, so they will be suitable for very hot weather or when you are starting out. However, if you are an advanced athlete, I would not recommend it.
Double Weave
A double weave gi is much more durable because of the extra thickness of the material. The double weave gi is not too expensive though it is long-lasting and efficient for hard and grueling sessions. Because of good quality, such a gi is more comfortable and popular among Jiu Jitsu practitioners.
Gold Weave
Gold weave combines the qualities of both single and double weaves. Such a garment is reliable, durable, and strong while lightweight and comfortable. The gold weave may appear more expensive, but it is worth every penny spent on it. If you want a lightweight gi that can last you for years, buy a gold-weave gi.
Pearl Weave
It is a new type of material but has already gained its popularity as one of the best. It is lightweight, strong, and durable, allowing smoother airflow. Your body will be kept cool and comfortable, no matter how hot the place is and how hard your training session may seem. I would highly recommend you to purchase a pearl weave gi.
Frequently Asked Questions
What makes the best Jiu-Jitsu gi?
There is no precise answer to this question. It depends on your training needs, aims, and preferences. Some people like soft materials and comfort with gold weave for cooling in hot conditions while others prefer classically sturdier, heavier, and more durable variants. The material, fit, and durability are essential, so you'll need to test-drive some gis before finding the ideal model.
What color BJJ gi should I get?
Only white and blue colors are allowed for competitions according to the IBJJF regulations. If you are a beginner and need your gi just for training sessions, you may choose any other color you like.
How tight should a BJJ gi be?
The kimonos tend to shrink when they are washed in hot water and machine-dried. Do not opt for a bigger size in the hope it will shrink, but read the specifications beforehand. If a gi is marked as pre-shrunk, you need to take your exact size. Every brand has its sizing chart, so you should have a thorough look at it. Remember that your gi must fit perfectly to avoid grips, chokes, and other unexpected situations caused by a lot of loose material left for your opponent's benefit.