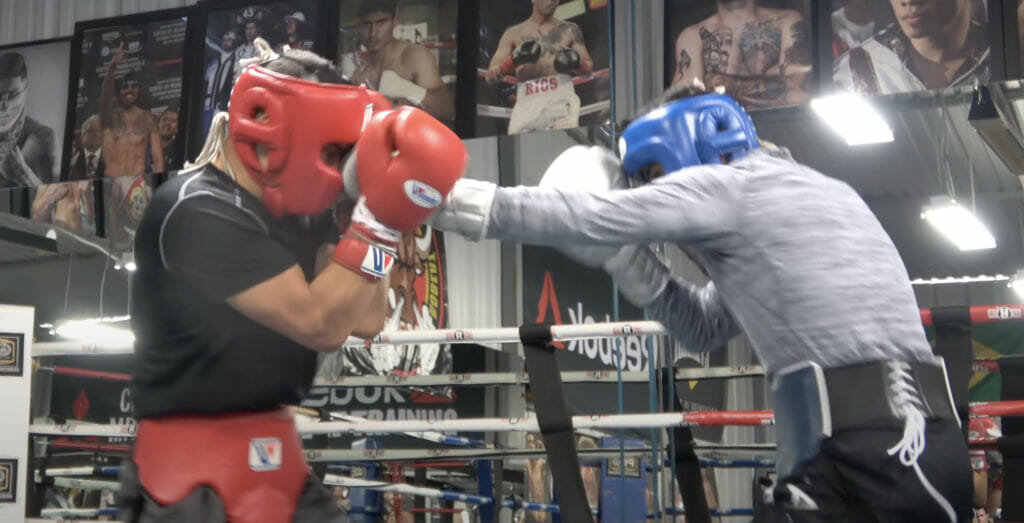 When you think of an MMA fighter like Anderson Silva, what comes to mind? Like most people, you'd reminisce about his devastating knock-out finishes and accurate strikes. However, there is one part of Silva's game that you'd probably forget — his chin.
Anderson Silva was lethal, but he could also take punches to his head. You see, MMA requires skill, but what defines some of the greats is their ability to take shots to the head and body. You can evade punches and kicks, but eventually, some will land.
However, this isn't an excuse not to use headgear during sparring sessions. Yes, you want to have the toughest chin in the game, but at what cost?
This is a challenging sport, and the least you can do is wear the best MMA headgear you can find. You'll still feel the impact of the punches and kicks, but at least you'll have some sort of protection.
Fairtex Headgear Head Guard Super Sparring Diagonal...
High-grade odorless Microfiber construction for durability and longevity
Multi-layered foam padding for optimal shock absorption and protection
Designed for all contact sports, such as MMA, Muay Thai, boxing, and karate
Top 7 Best MMA Headgear at a Glance
The Fairtex brand is renowned for its tough but lightweight Muay Thai headgear. Unlike most brands that struggle to provide decent protection and maintain vision, Fairtex strikes a good balance of the two.
This is evident in the Fairtex headgear as it has excellent visibility, reasonable padding, and it's lightweight. Other features include:
Material
The Fairtex headgear features durable leather and high-density foam as padding. Everything is stitched up well to withstand full contact MMA and Muay Thai sparring.
Padding
As mentioned earlier, the Fairtex headgear has a decent amount of coverage. It has several layers of padding- the outer layer feels firm, but some users complain that it's too rigid. However, the inner layers are softer and feel they fit your head like a glove.
Like most headgear, it has padding around the ears, on the cheeks, and forehead. It also has padding on the chin to protect your face from the occasional uppercuts.
Coverage options
The Fairtex headgear comes in several options; you can choose the full coverage headgear or the lace-up option. The main difference between the two options is the top surface.
If you're in MMA or Muay Thai, choose the full coverage option as it protects the top of your head from elbow strikes. The lace-up option is also good, especially if you prefer an adjustable headgear.
Pros
Excellent balance between visibility and padding 
Several coverage options 
Decent field of vision 
A review of the best MMA headgear would be incomplete without a Hayabusa headgear. It's a renowned brand that makes headgear with some of the widest fields of vision. This is evident in the Hayabusa T3, which also has a low profile design for added protection.
Padding
In MMA, being hardcore and tough is praised in the ring and MMA podcasts. This is why some prefer not to use headgear. Another reason is the padding used in headgear. If the headgear has too much padding, it impedes your vision and range of motion.
If you can't see the punches coming, you'll have trouble evading them. This will lead to head trauma, concussions, and all sorts of injuries you were trying to avoid by wearing. As such, headgear need to balance functionality and visibility.
This is what the Hayabusa T3 offers with its perfectly-balanced padding. In addition to this, it has an inner lining, mesh earholes, and an open-top design for better air circulation.
Fit and feel
Traditional headgear tends to be bulky, thus reducing the user's view of the surrounding. Hayabusa knew this was a problem and therefore designed the T3 headgear with a wider field of view.
The manufacturers also added a T-cross strap system for that comfortable fit. Thanks to this strap system, the headgear doesn't shift, making it ideal for sparring sessions and matches.
When it comes to materials, the Hayabusa T3 sports the exclusive Vylar exterior — leather built to last. Vylar leather is a strong material that has proven to be tear and abrasion-resistant. 
Pros
Low profile design for strike deflection 
Wide field of vision
Proper air circulation 
The Everfresh headgear is a product of Everlast, a company founded in 1910. It has since become one of the most recognizable brands in boxing and MMA. Among its most popular products is the Everlast Headgear, which comes in one size.
Material and Breathability
The Everlast headgear is made of synthetic leather and Evercool Mesh. The synthetic leather covers the head guard, forehead, top strapping, back of the head, and chin strap. The remaining parts are covered with Evercool mesh to keep your head cool, especially when wearing it for extended periods.
You'll enjoy a decent amount of breathability from the mesh sides and top part of the gear. In addition to this, the inside features the Everdri lining that is said to have anti-moisture and antibacterial benefits. This ensures that your gear smells fresh all day.
Craftsmanship
Typically, when a product is mass-produced, the quality of craftsmanship is always affected. However, with this boxing headgear, everything is well done, from the stitching to the padding. Nothing feels out of place or hurried, even the outer materials.
Comfort
As mentioned earlier, the Everlast headgear comes in one size, which is an issue for people with smaller or bigger heads. Fortunately, the headgear has an adjustable back section to help you tweak the fit according to your head size.
However, from our experience, it didn't fit a colleague who has a relatively small head. Therefore, you might want to consider your head size when getting this MMA helmet.
Padding
This headgear wouldn't be considered one of the best headgear for MMA sparring if it didn't have sufficient padding. However, a quick look at the Everlast headgear, you'll notice that the manufacturers prioritized vision over padding.
You see, most MMA headgear tends to have padding across the face. This helps protect your face from your opponent's punches but at a cost. The extra padding on your face limits your field of vision.
With this in mind, Everlast manufactured a headgear with padding on the top of the head to the eyebrows and cheeks bone. This leaves your chin and nose exposed. Think about it; if your chin is exposed, you become vulnerable to uppercuts, jabs, etc.
When getting such a helmet, you'll have to decide whether you want better protection or a better field of vision. 
Pros
Wide field of vision 
Durable materials 
Breathable 
The Ringside headgear is designed for amateurs, professionals, or anyone looking to enjoy the fitness benefits of boxing. Ringside has been making such headgear for over three decades, and its vision is to provide the best boxing headgear at affordable prices.
This is what you get from the Ringside competition-like headgear. It's affordable, but it's designed to look and feel like a competition-ready headgear. It offers decent protection, but it's not approved for competition.
Padding
You might have noticed this headgear is dubbed competition-like this is because the manufacturer used USA boxing specifications. However, this doesn't mean that it's approved for competition boxing.
The one area that's lacking is the ears. It has padding around the ears, but they feel a little open. Also, the cheeks lack sufficient padding to make any tangible difference. Yes, the headgear has padding around the cheeks, but it's too small to cover your entire cheekbones.
That said, the Ringside headgear is arguably the best boxing headgear for under $100. It's not the type of headgear you would wear to a sparring match, especially if you're worried about your face.
It's made for competition thus, it will fare better at protecting your brain than your face.
Comfort
While it's not the most comfortable headgear out there, it feels good on your head. It molds to your head and just feels right. Most people who've tried it have very little to complain about its fit.
This Ringside headgear has an open face that offers a good field of view. 
Pros
Made according to USA boxing standards 
Comfortable 
Affordable 
Cons
Insufficient cheek padding 
Open face 
Venum has been in the market for a little over a decade but has managed to become a respected brand in boxing and MMA. The brand has sponsored MMA fighters such as Miesha Tate and Jose Aldo.
Venum is committed to improving combat sports, and it accomplishes this is by making gear. Venum gear, especially the headgear is easily recognizable from the Venum logo on the forehead. The headgear comes in one size, has a chin bar, but no face bar.
Material
Venum Elite is made of Skintex leather and is hand-stitched in Thailand. The leather is durable but lightweight, which makes it suitable for boxing headgear.
The product also features triple density foam to protect your head. This allows you to take heavy punches during sparring matches to prepare you for competition.
Padding
The Venum Elite has padding around the cheeks, chin, head, and ears. It has openings that will not affect the protection you get from this headgear. Despite having sufficient padding, the Venum Elite has a wide visor that allows you to see 180 degrees around you.
You see, in boxing, MMA, and Muay Thai, a punch, kick, hook, knee, or uppercut can come at a time from multiple directions. You need to see these movements coming so that you can defend yourself or counter.
Fortunately, the Venum Elite offers good visibility; thus, you should not have trouble defending yourself.
Comfort and Fit 
The Venum Elite is available in one size and has velcro strapping to tighten the fit. It has cheek and chin protection to protect you from uppercuts, hooks, bruises, and cuts. A quick look at the headgear, you'll notice that it has tons of openings around the back, on the top and sides. All these openings help keep your head cool and comfortable during sparring. 
Pros
Wicks moisture well 
Triple foam padding 
Handstiched in Thailand 
Wide field of vision 
Cons
One size might fit everyone 
There are times in training when hard sparring is the best option to learn better defense techniques, counter attacks, etc. In such instances, you'll need the best headgear for MMA sparring.
You don't want just any type of MMA headgear, you'll need one that's built for hard sparring. This is what you get when you buy the Elite Sports Boxing Headgear. And the best part is its price- less than $50.
Protection
The idea of wearing an MMA helmet is to protect your head and face during sparring sessions. This is why Elite Sports uses a triple layer of foam around the cheeks and head. It is designed to offer the protection necessary for hard sparring.
However, there is one issue- the ears are exposed. There is minimal padding around the ears but not enough to absorb hooks or punches directed towards the area.
Adjustability
The Elite Sports features a dual-closure system that includes a chin strap and an adjustable strap at the back. This means that you can adjust either of the two or both to get a snug fit.
Breathability
During sparring seasons, MMA fighters have to deal with overheating, which affects their stamina and focus. It becomes a bigger problem if they are wearing a helmet. Therefore, MMA fighters prefer helmets such as the Elite Sports, which have breathable material and open spaces for ventilation.
A quick scan of the helmet, you'll notice that it has open spaces around the ears, face, back, and top of the head. This ensures that your head remains cool throughout the sparring sessions. 
Pros
Suitable for hard sparring 
Affordable 
Chin and cheek protection
Cons
 Little to no padding around the ears 
The RDX head guard is an ideal choice for beginners, especially if they're not used to punches to the face. It offers sufficient coverage around the head and on the face. However, it lacks chin padding, which opens you up to uppercuts.
Material
The RDX head guard features the Maya hide leather and several layers of foam on the inside. It also has a layer of gel that's added for shock absorption. Overall, the materials used to make this helmet can withstand the damage associated with combat sports such as MMA.
Breathability
The top part, sides, and back of the head have open spaces for ventilation. However, unlike other brands that sacrifice ear protection for ventilation, RDX has foam and layers of gel around the ears. This allows you to spar without worrying about getting hit in the ears.
Protection
As mentioned earlier, the RDX headgear features foam and gel layers to protect your face and head. It offers decent coverage around the head and on your face except on the chin. It's the level of protection you'd expect at that price.
Other than that, the RDX headgear offers wide viewing angles of about 180 degrees. Overall, RDX has found the right balance between padding and visibility. 
Pros
Comfortable 
Easy to adjust 
Great value for money
Durable 
Before You Buy: Consider These Factors
Getting the best MMA headgear requires a thorough review of the available MMA headgear based on these factors:
Comfort
How does the headgear feel on your head? Is it constricting the ears? Is it breathable, and do you feel hot? These are just a few of the many questions you need to ask yourself as you choose the helmet.
Remember you'll be wearing the helmet for hours as you train; the least you expect is it's comfortable.
Visibility
You want a headgear for protection, but this shouldn't come at the cost of visibility. Think about it, is the protection you'll get worth losing your visibility? Remember, this is a combat sport, and you can take hits to other parts of your body other than your head.
You need a better view of your opponent so that you can see their movements, block their attacks, counterattack, or go on the offense. Therefore, choose a headgear that balances the two.
Quality vs. Price
Today, there are tons of MMA headgear coming from different brands at different prices. Even in this guide, you'll notice that the price varies as some cost as low as $30 and others over $100.
MMA headgear is a vital piece of your training equipment, and you don't want to buy the cheapest. You'll be using this headgear almost every time you train; it needs to be durable, offer the right amount of protection and visibility.
Typically, this combination comes at a cost. It's up to you to choose what you want.
Ventilation
After training for several minutes or hours, it starts getting hot, and your body begins to fatigue. This is why the best sparring headgear tends to have ample ventilation to keep your head cool. Besides, better ventilation means that you can hear as your coach or trainer yells commands during sparring.
How to Get the Best Out Of Your MMA Headgear
Having a headgear isn't an excuse to be reckless during training. Remember that professional athletes suffer injuries during sparring and training sessions. Therefore, use the helmet to improve your skills and develop better defense techniques.
With a helmet, you can take heavier punches, but it doesn't mean that you should. Instead, develop a training program that includes light and heavy sparring sessions. During the light sparring sessions, you can focus on improving on technique.
Allow your body time to rest and recover, especially after an intense sparring and training session. Wearing a helmet doesn't mean that you're invulnerable; thus, prioritize recovery.
Conclusion
The ultimate decision is yours, as you'll choose the features you want depending on your budget. We've reviewed a couple of MMA headgear based on the features highlighted in the buyer's guide.
Fairtex Headgear Head Guard Super Sparring Diagonal...
High-grade odorless Microfiber construction for durability and longevity
Multi-layered foam padding for optimal shock absorption and protection
Designed for all contact sports, such as MMA, Muay Thai, boxing, and karate
Out of the 7 products, the Fairtex Headgear and the Hayabusa T3 were our favorites. However, the Hayabusa T3 dropped a few points due to the lack of chin protection. Therefore, our pick for the best headgear for MMA sparring is the Fairtex Headgear.
What do you think about these products? Is there a headgear you think you should have been on this list? Feel free to let us know about your preferred headgear in the comment section.