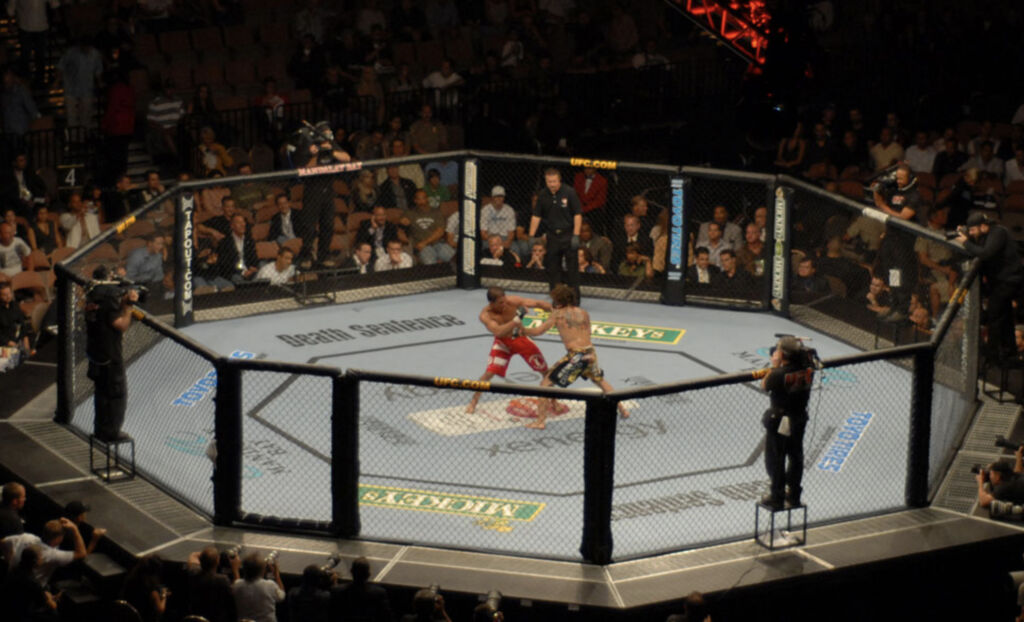 A UFC fight lasts for either three or five rounds. Non-championship bouts are usually scheduled for 3 rounds, while championship bouts and main event fights are five rounds. Each round in the UFC is five minutes long, with a one-minute break in between rounds.
The number of rounds in an MMA fight differs from promotion to promotion around the world. The most popular promotions like the Ultimate Fighting Championship (UFC), Bellator, and ONE follow a set of rules called the "Unified Rules of Mixed Martial Arts."
These unified rules were created to protect the fighters and establish a set framework for universal MMA rules that are supposed to be adopted by every State Athletic Commission in the USA, which regulates Mixed Martial Arts. I went ahead and summed up the number of rounds in main events and regular fights, as well as the difference in rulesets.
How Many Rounds in UFC?
The usual UFC fight will consist of three five-minute rounds if it's a non-main event. Championship fights and the last fight of the main card, even if it's not for the belt, will be five rounds of five-minute fights. This included the pay-per-view as well as fights on regular cable.
An exception is made when a UFC belt is up for grabs; for example, the women bouts during UFC 261 were scheduled to be five five-minute rounds, even though they were not main events.
Three Round UFC Championship Fights?
Sometimes, exceptions are made. For UFC 200, Anderson Silva, who is in a lower weight class, stepped up to fight Daniel Cormier (Light Heavyweight) on two days' notice, but on the condition that it will be scheduled for three rounds of five minutes. Originally, the Cormier was to face Jon Jones, but he was pulled from the card. Dana White, the UFC president, obviously agreed to host this spectacular bout. Unfortunately, Anderson Silva suffered a unanimous decision loss that night.
How Many Rounds in Mixed Martial Arts?
Each organization can have different rounds, and it's up to them to decide how many rounds the fight will be.
According to the Unified Rules of MMA:
Each round shall consist of a five (5) minute duration (professional), with a one (1) minute rest period between rounds.

a. No contests shall exceed five (5) rounds and/or twenty-five (25) minutes.

b. Bouts may consist of one (1), two (2), three (3), four (4), or five (5) rounds, with a five (5) minute duration.

c. No contestant shall exceed competing more than five (5) rounds and/or twentyfive (25) minutes of fighting in a twenty-four (24) hour period.
Here's a neat comparison of different organizations and how they do:
UFC:
Championship or Main Event: 5 five-minute rounds (1-minute rest period between rounds)
Non-Championship and Non-Main Events: 3 five-minute rounds (1-minute rest period between rounds)
Bellator MMA:
Championship Fights: 5 five-minute rounds (1-minute rest period between rounds)
Non-Championship Fights: 3 five-minute rounds (1-minute rest period between rounds)
ONE Championship:
Championship Fights: 5 five-minute rounds (1-minute rest period between rounds)
Non-Championship Fights: 3 five-minute rounds (1-minute rest period between rounds)
Invicta Fighting Championship:
Championship Fights: 5 five-minute rounds (1-minute rest period between rounds)
Non-Championship Fights: 3 five-minute rounds (1-minute rest period between rounds)
PFL (Professional Fighters League):
Championship Fights: 5 five-minute rounds (1-minute rest between rounds)
Non-Championship Fights: 3 five-minute rounds (1-minute rest between rounds)