Choosing the best Brazilian Jiu-Jitsu uniform is crucial to your training. The pulling, throwing, chokeholds, and other BJJ moves put quite a strain even on the best of uniforms. But there is a solution … hemp gis!
Hemp gis are more environmentally friendly. Since hemp fibers are four times stronger than cotton, it means that by the time you go through four cotton Gis, you will go through one hemp Gi. Therefore, you do Mother Nature one good turn, and you also save yourself a good amount of money.
Editor's Choice Hemp Gi
5 Best Hemp Gis Reviewed
Hemp fabric was used on the first Judo gis designed by Jigoro Kano and inspired by the Japanese firefighters' hemp jacket. The samurais also preferred hemp for being four times stronger than cotton, anti-bacterial and comfortable.
A hemp gi is the most durable BJJ uniform that you can buy today. However, don't just buy the first one that you come across. Compare all the BJJ Gis and choose a hemp Gi that suits your preferences.
Here, I have done all the footwork for you and brought you the best hemp gi uniforms.
Senso Jiu-Jitsu 100% Hemp Gi Uniform
Senso operates from the San Francisco Bay Area in California. Their jiu-jitsu gi is handmade, with attention to detail even in the smallest areas. They hand finish the uniform to enhance its durability, comfort, and performance on the mat when you are wearing it.
This is a 100% hemp gi. Therefore, you get all the benefits of hemp fibers, including durability, comfort, and antimicrobial properties. To be precise, the jacket is 550 GSM natural hemp, while the pants are 100% 375 GSM hemp.
The hemp jacket has a Coolmax lining. The same lining is also added to the waistline. Therefore, this hemp top wicks the sweat from your skin. This keeps the BJJ Gis dry, cool, and comfortable for your entire sparring session.
On the crotch area of the pants, you find the same Coolmax lining, which helps to reduce friction between your legs.
Pros
IBJJF legal
The embroidery patches on thighs, waist, arm, and chest are outstanding
KO Sports Gear Magic Dragon Hemp Blend Gi
The KO Sports Magic Dragon Hemp Gi will make you stand out from the crowd.
This hemp gi is made of a hemp blend, pearl weave material that is breathable, cozy, and keeps you cool throughout your training sessions. The top is made of 450 GSM hemp fiber, which is not too heavy. The pants are made of ripstop fabric with patches on the thighs, and they have orange stitching, which blends well with the dark brown hue. The hemp Jiu-Jitsu top has orange trims around the sleeve.
The collar has a rubber insert, which is comfortable on the neck.
For aesthetics, this hemp kimono is embellished with magic dragon loops in the front. One large loop on the left side has the word Magic, while the other one is on the right with the word Dragon.
Pros
Price doesn't bite
450 GSM hemp is stronger than lower GSM materials
Nice dragon patch on the thigh
Perfect fit
KO Sports Gear Foundation Hemp Gis
If you are looking for a light hemp Gi, this hemp BJJ uniform might meet your needs since hemp is stronger than cotton. You will also notice that it lacks the colored patches that so many other BJJ gis come with.
The top is made of 350 GSM hemp blend fabric. It is breathable so that you can stay dry throughout your sessions on the mat. Mainly, this uniform is white. However, it has gray stitching and trimming. The loops and its rope belt are also gray, which blends well with the hemp Gi.
The neck has a rubber insert for comfort. Rubber inserts also dry faster than cloth padding. They are also tougher to hold onto during rolling.
The fibers of this hemp BJJ Gi are of ripstop 10oz cotton material. It is durable and sturdy to withstand rolling without tearing.
Pros
The material is very breathable and light
The logo is subtly located under the collar
Nice white and gray color combination
This hemp BJJ has incredible strength
Cons
It does not have a lining to wick sweat away from your skin on hot days.
Datsusara Combat Gear Hemp Gi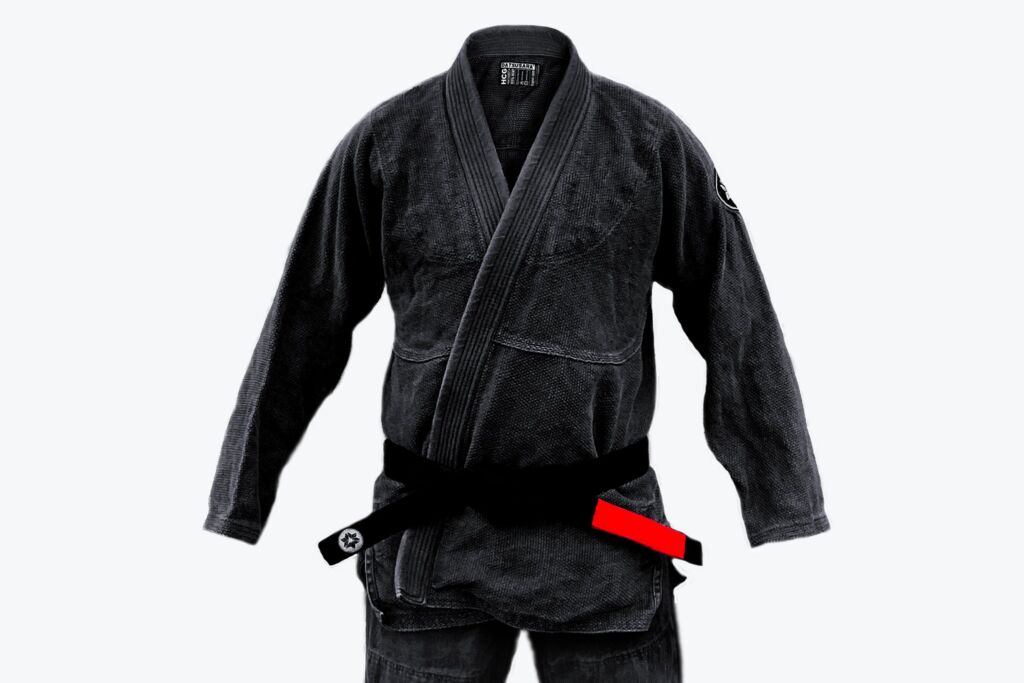 This is another hemp gi that is made of 100% hemp fiber. Datsusara is one of the brands that introduced the Hemp Gi uniforms in 2008.
Since this BJJ Gi is made of 100% natural hemp fibers, it is environmentally friendly. It can last longer than any other commonly used fiber for Gi material. It will feel stiff at first, but after a couple of washes, it will soften up.
This durable uniform comes with embroidery rather than patches, so you cannot remove them.
To produce the top, the manufacturer uses 580 GSM fiber. Therefore, the top feels a bit heavier than most of the competition. The bottoms are lighter since Datsusara has used 376 GSM long fiber. Collectively, this Gi's weight is up to 5 pounds, of course, depending on your size.
The neck has a UVA foam insert which is easy to hold onto tightly. The seams are reinforced for strength, and the drawstring is made of a braided cord.
Pros
Good for wearing at home as pajamas
These BJJ Gis are machine-washable
It does not fade
It available in white, blue and black
Cons
Washing in hot water can cause up to 3% shrinkage
Inverted Gear Hemp Gi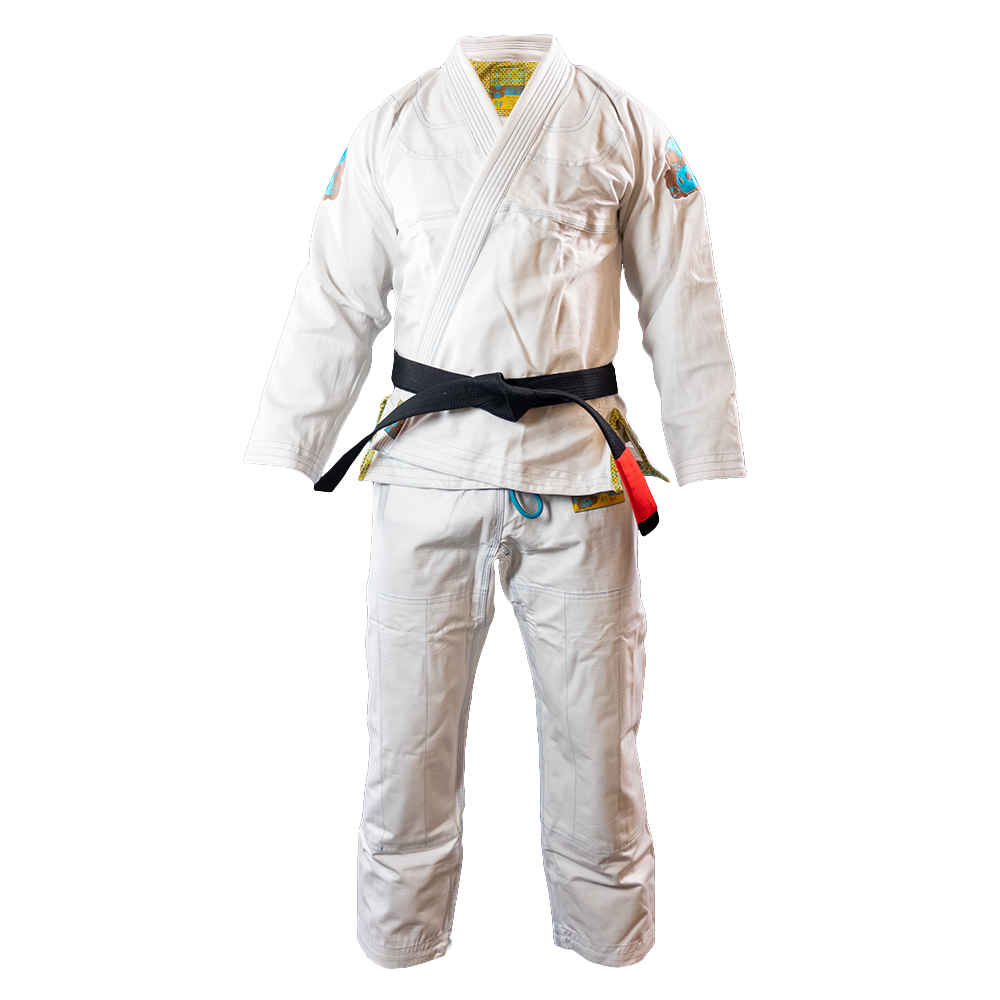 Since early 2012, Inverted Gear has been making high-quality fight wear. They say that their hemp Gi is for the regular trainees who want to feel comfortable and protected on the mat. They are stocked throughout the year so that you will find an Invited Gear Hemp Gi anytime you need to buy one.
While they refer to this as a hemp gi, it is not 100% hemp. The top is a mixture of cotton and hemp fibers at a ratio of 80:20 cotton and hemp. This hemp BJJ Gi uses pearl weave for the jacket; it's made of ripstop fabric so that it won't tear during rigorous training sessions.
Unlike most hemp BJJ Gis, the Inverted Gear has high-quality seams, making it stronger and more durable. Also, the underarms have enough reinforcement to avoid tearing.
The BJJ Gi bottoms come with ripstop fabric. This Gi's crotch area is reinforced with pearl weave material for durability.
The pants butt also has a patch for reinforcement. The patch is sewn to the inside of the pants, so it stays invisible.
Pros
The shoulder has a rashguard lining
reinforced in the high movement areas such as crotch and armpit
CBJJF and IBJJF approved
Conclusion
Would you stick to cotton Gis from the above reviews, or are you willing to make the switch to hemp Gis? Each material has special properties, but hemp Gis are naturally softer, lighter, and breathable.
Regular gis go a long way, but it doesn't hurt to have one or two hemp Gis in your collection. In that case, I'd recommend the Inverted hemp BJJ Gi because it is durable, has a nice blend of cotton and hemp fibers, and comes with reinforcements on all the stress points. Other hemp gis are equally good but cannot beat the Inverted hemp gi when it comes to strength.
That's it, grapplers, remember to make your choice wisely and stay safe out there!