If you're looking for a Brazilian Jiu-Jitsu Gi, you know how expensive Gis can get. Brazilian Jiu-Jitsu (or BJJ) is a great sport to practice, but buying a BJJ Gi can hurt your wallet. Don't worry though! Now, you don't have to overspend on a Gi.
There are plenty of cheap BJJ Gi options available. We compiled this buying guide to help you find the best cheap Brazilian Jiu-jitsu Gis today. So, let's get right into it.
Best Cheap Brazilian Jiu-Jitsu Gis at a Glance
Elite Sports BJJ GI for Men IBJJF Kimono BJJ Jiujitsu...
✅ ADVANCE SIZING: Our sizing is superior to any other brand out there, we do not believe in 1...
✅ NO SHRINKING- MACHINE WASH IS OK- Lets be realistic most Gi brands want you to hand wash...
✅ IBJJF APPROVED – This IBJJF GI is approved from International BJJ Federation, so you can...
This Elite Sports BJJ Gi is perfect for both beginners and experts in the field. Elite Sports is a relatively new but popular brand specializing in producing stylish but affordable martial arts gear. This Gi is no exception. Available in 7 different colors, this product's style is bound to suit most people.
This BJJ Gi is made from 425GSM cotton pearl weave. Available at a price of approximately $60, it's a great cheap BJJ Gi. The fabric is pre-shrunk, so you don't have to worry about the cloth shrinking later on. This means you can buy the perfect fit from the get-go. The fabric itself is solid and durable, making it perfect to practice in.
What makes this Gi an excellent choice is that it is approved by the International BJJ Federation (IBJJF) to wear it to official BJJ competitions and tournaments. The Gi lapel thickness measures 1.3cm, and the width of the collar measures 5cm.
When you purchase this Gi, Elite sports throws in a free white belt for beginners. A great feature at such an affordable price! The belt comes with a stripe bar where you can earn your striped and display your progress. So, you're ready to start your training as soon as you make your purchase!
Pros
Lightweight to allow for mobility
Anti-microbial lining that absorbs sweat
Free White Belt!
IBJJF approved
Cons
Belt drawstring comes undone often
Sanabul Essentials V.2 Ultra Light Pre Shrunk BJJ Jiu...
If you go to any Jiu Jitsu school, you're likely to find someone who has a Sanabul gi. Why?...
The Perfect Fit: We take the guesswork out of sizing. Our preshrunk gi can be thrown in a cold...
Just What You Need: A Jiu Jitsu gi created to go on the journey with you. We designed The...
Sanabul Gi is a well-established brand and a popular choice among affordable BJJ gear, so it's no surprise that they're on this list. This Gi, also available at a price of approximately $60, is made from pre-shrunk fabric and comes with a comprehensive sizing chart to ensure you get a good fit.
This cheap BJJ Gi was specifically designed for extended use and tested by some of the best professionals in the field, such as John Danaher. I've been using this Gi myself for quite a while and can tell you that it's the claim of longevity definitely holds up. It's one of the best quality BJJ Gis under 100 dollars!
This cheap Gi is also really stylish to look at. Available in 6 different colors, the Sanabul Gi gives off a clean look. It's also really lightweight, which means you can comfortably wear it in the hot summer months. An ultra-light Gi also gives you an advantage while fighting because it doesn't weigh you down.
This inexpensive Gi has rubberized collars, tapered sleeves, and dense single weave design. All of these ensure that this Jiu-Jitsu Gi is firm and stiff. However, this Gi is not IBJJF approved, and the pants they come with are slightly baggy.
Pros
Lightweight
Anti-microbial lining
Durable
Affordable Price
Tapered cut
Cons
Not IBJJF approved
Large drawstring – can become undone
Pants may run large
FUJI– All-Around BJJ Uniform – BJJ & Jiu Jitsu Gi
BJJ Gi: FUJI BJJ Gi (kimono) is the best-selling and most trusted Fuji Gi (kimono) in the...
Jiu-Jitsu Uniform: Mid-weight with stiff, thick collar and multi-layered reinforcement across...
Cotton Blend Kimono: The pants of the BJJ Kimono are a premium cotton blend twill pants with a...
Fuji has been producing high-quality BJJ gear for quite a while. Led by Olympic Judo medallists and Judo world champions, Fuji is a leading company in the industry. Their BJJ Uniform is the best selling Gi in the world, and it's also IBJJF certified. Its price is higher than the other two Gis on our list.
This Gi has a stiff, thick collar and is made from 100% cotton. This Gi is made from a single twill weave medium weight fabric. The Gi has a nice mid-weight feel, which makes it very durable than other single weave Gis on the market.
Despite feeling thick, this Gi is actually quite comfortable. It can retain heat when it's cold but remains breathable to ensure comfort in tough training sessions. The pants are also made from thick, durable material to prevent any ripping.
This Jiu-Jitsu Gi comes in two color schemes for you to choose from. First is the traditional white and navy color combination, and the second is blue with neon green stitching. Despite being pre-shrunk, the Gi's pants tend to run a little large, so be wary of this!
Pros
Medium weight
Single twill weave
Extremely durable
100% cotton fabric
Breathable
IBJJF approved
Cons
Few design options
Higher price
Cheap Brazilian Jiu-jitsu Gis Buying Guide
A cheap BJJ Gi is the best way to get your foot into the world of Brazilian Jiu-Jitsu. Usually, a BJJ Gi can cost an upward of $200, but you should find a good cheap one under $100.
Some people may try to avoid buying a BJJ Gi, thinking that their Jiu-Jitsu, Karate, or Judo Gi will do enough. However, you should know that this is not true. You can wear them when you're just starting out and want to get a feel of BJJ. However, these will definitely not pass for competition or tournaments.
When buying a cheap Gi, though, you don't want to compromise on quality. Here's what you should look out for when purchasing a Jiu-Jitsu Gi.
The Right Size
When choosing the best cheap BJJ GI, sizing can be overwhelming, mainly because there's both numbers and letters involved. However, if you get yourself familiarized with a BJJ Gi sizing guide. Here's an easy Fuji Gi Size Chart: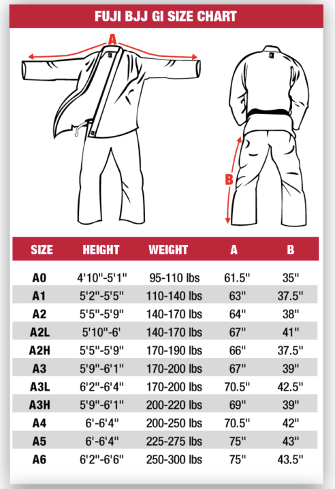 Material and Weave
The material and weave are vital factors to consider when buying a weave. These are the kind of weaves you're likely to encounter:
Single Weave: lightweight and cheap
Double Weave: heavier than a single weave, more durable, and retains heat.
Gold Weave: a hybrid between a single and double weave, this is lightweight and durable.
Pearl Weave: the most lightweight and durable.
A general rule is that a pearl weave is better than gold or single weave because it shrinks less. A pearl weave is also ideal for a kimono jacket because it feels as lightweight as a single weave but is as strong as a gold weave.
When it comes to material, most BJJ Gis are made from cotton. Trousers can be made from ripstop. This is a combination of nylon and cotton that is durable but may be uncomfortable. You can also find trousers made from a cotton drill, which is a thicker type of cotton.
Fit
You'll find Gis with two kinds of fits: pre-shrunk vs. shrink-to-fit. The first kind is more commonly found because they save you a lot of hassle. With shrink-to-fit Gis, you'll have to wash the gi repeatedly until it fits perfectly. These Gis are very high maintenance, but if you're particular about getting the exact size, opt for a shrink-to-fit!
Collar Fill
The collar fill of a BJJ Gi is typically either cotton or rubber. Cotton fills have been used for much longer. However, we recommend going for a rubber fill because it has many advantages over a cotton fill, such as lighter weight and faster drying. However, cotton collar fills are able to absorb sweat better