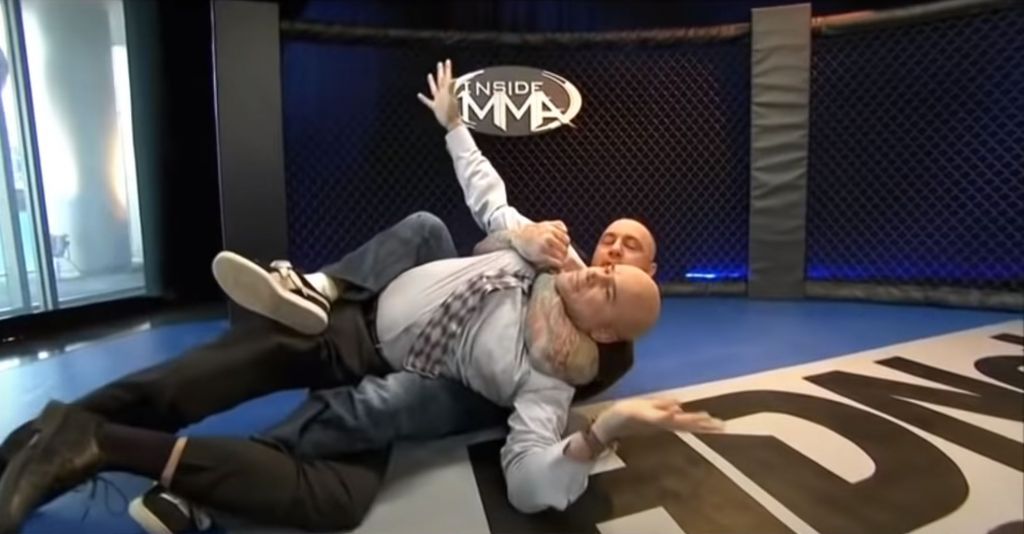 There is no doubt about it, Joe Rogan is a badass. Not only is he a famous podcast host with one of the most successful podcasts in the world, but he is also a UFC commentator and an accomplished Brazilian Jiu-jitsu practitioner. On Instagram he describes himself in this way: stand-up comic/mixed martial arts fanatic/psychedelic adventurer.
In this article, we will take a look at Joe Rogan's BJJ career and find out how good he really is. We will also discuss what belt he currently holds in Brazilian Jiu-jitsu.
| | |
| --- | --- |
| Full Name | Joseph James Rogan |
| Profession | Comedian, UFC Commentator, Podcaster |
| Birth Date | August 11, 1967 |
| Birthplace | Newark, New Jersey, U.S. |
| BJJ Belt Rank | Black belt |
| BJJ Coach | Jean Jacques Machado, Eddie Bravo |
| Other Martial Arts | Tae Kwon Do, Muay Thai |
Joe Rogan Martial Arts Experience
Joe Rogan has 3 black belts in martial arts. He has been practicing karate for over 40 years, since the age of 13, and has competed as an amateur in Tae Kwon Do and kickboxing:
Tae Kwon Do
Brazilian Jiu-Jitsu (under Jean Marques Machado)
10th Planet Jiu-Jitsu (under Eddie Bravo)
Taekwondo Progression
Rogan began training taekwondo when he was around 15 years old. He continued to train and compete in his late teenage years. However, when he was in his early 20's, he started to get headaches from all the blows to the head during sparring. This made him give up on taekwondo. He also details that he realized that taekwondo was an incomplete martial art because it lacked boxing ability.
Rogan was never a national champion for taekwondo, but many people believe he was at least a state champion for Massachusetts for several years. He also taught the art to others in his spare time as a part-time job.
On top of all this, there is footage of Rogan competing in full contact taekwondo on the internet. In these fights, he finishes his opponents with spinning kicks. So there is no doubt that he was once a very competitive black belt. He also regularly speaks about his younger years of competition taekwondo on his podcast and is clearly very knowledgeable on the subject.
What conclusions can we draw from these findings? It's clear that Joe Rogan was at the very least a competitive taekwondo black belt in his early 20s.
Joe Rogan's BJJ History
Joe Rogan became interested in Brazilian Jiu-Jitsu when he saw Royce Gracie fighting in UFC in 1994. After two years, he started training BJJ under Carlson Gracie at his school in Hollywood, California. Joe Rogan is now a proud owner of a No-Gi black belt in Eddie Bravo's 10th Planet Jiu-Jitsu system and a regular BJJ black belt in gi under Jean Jacques Machado. This means that Joe Rogan is living proof that you don't always have to choose between the traditional Gi style of Jiu-Jitsu and the modern no-gi style.
How Good is Joe Rogan at Jiu-Jitsu Compared to Other Famous Fighters and Celebrities?
There is no easy answer when it comes to determining someone's level of skill. If someone has won the biggest competitions, you can say that they are skilled. This is because they have been successful in tournaments, which is some measure of skill. However, when it comes to hobbyists, it can be more difficult to assess someone's level of ability. Someone who is more athletic and has a higher belt rank might be better, but this isn't always the case since belts are not always an accurate measure of skill.
Many people were troubled by the question "How good is Joe Rogan at BJJ?" So a video was made about it. In it, Jean Jacques Machado described Rogan as "the strongest motherfuckers in his school". This can be translated to mean that Joe Rogan is good at BJJ. If this does not answer your question, the full video can be found below.
Does Joe Rogan know Jiu-Jitsu? It is fair to say that Joe Rogan is not a professional fighter, but he does have a black belt. He is over 50 years old, but is still considered to be quite athletic. This would put him at around the average level of a hobbyist black belt or maybe even a little better. This means that while he might not be able to compete with the best fighters in the world right now, he would also not be easy to tap out.