What do you do with your collection of BJJ belts? Most people simply throw them in a drawer, but that's not really showing off your hard-earned progress. Why not put them on display?
Not only does it show off your hard-earned belts, but it can also be a great way to motivate yourself to keep training and achieve new goals.
In this article, we will take a look at some of the best karate belt display racks on the market today. Here are great ideas for displaying your martial arts belts!
What To Look For In A Karate Belts Display Rack?
When looking for a karate belt display rack, you should consider the quality of the materials, ease of assembly and disassembly, attractiveness, and affordability.
Number of Belts
To figure out how many belts a rack can hold, you need to look at the number of belts it can hold. This number varies depending on the type of martial arts and the school.
For example, Judo has 6 colored belts and 10 degrees of black belt. But for Kung Fu, you would need at least 10 spots for your colored belts.
This is generally true among other major martial arts like Karate and Taekwondo, but be sure to check with your specific school.
If you want to be able to display your black belts as well, you'll need a bigger rack.
Personalization
You have the option to personalize your rack with stick-on letters and spaces for stickers. Some racks come this way, while others require you purchase a decorating kit separately. Keep in mind that whatever rack you choose needs to have enough space for you to add all the decorations!
Space for Medals?
If you're active in tournaments or have collected a few medals, you might want to consider a display case that can accommodate them. Most styles don't offer space for medals, but it's worth taking the time to find one if you want to show them off together.
The Best Jiujitsu Belt Holders
BJJ Belt Display Rack with Hooks for Medals
Brazilian Jiu Jitsu Belt Display | BJJ Belt Rack for 5…
EASY ASSEMBLY & HANGING – Comes with detailed instructions and all the required hardware to…
HOLDS 5 BELTS & MEDALS – This holder can rack up to 5 belts for white through black. Plus, it…
FOR BJJ PLAYERS BY BJJ PLAYERS – We created this product to fill a need that not only for…
We start with a jiu jitsu belt holder, because I'm a juijiteiro. The Alley Cat Brazilian Jiu Jitsu Belt Display is easy to assemble and hang. You just need a philips head screwdriver, and that's it!
The display can hold up to 5 belts – white through black – plus 3 medals. They created this product because they saw a need, and I know you'll love it! If for any reason you're not satisfied with your purchase, the company offers a 100% money-back guarantee.
Milliard Karate Belt Display
Milliard Karate Belt Display – Holds 8 Martial Arts…
Display Your Achievements – with Milliard's top-rated belt display that's constructed…
Personalize It – The display comes with a BONUS stickers pack – perfect to customize your…
Belts and Trophies – Milliard's patented display comes with 8 plaques to hold your belts, and…
This belt display rack is not only highly rated, but also quite affordable. It's made from real birch plywood and offers a natural wood tone. Including elastic straps makes it easy to mount eight belts on the wall. The top bar allows space for hanging medals as well, adding another layer of decoration to your room or dojo! You can personalize the display rack yourself with a bonus sticker pack – containing calligraphy letters in an Asian-style font and kicking/punching silhouette images. The kit comes complete with everything you need to hang it on the wall and get started enjoying your new decorative piece!
Century Martial Arts Budo Karate Belt Rack
Sale
If you're looking for something a little more refined, this martial arts belts wall rack is perfect for you. More sophisticated than the other racks we've mentioned, it has a frame that encloses the whole rack and decorative Kanji at the top meant to represent "budo", or Japanese martial arts. This Karate belt frame can accommodate up to 10 belts- an excellent way to display your progression in rank all while freeing up some much needed floor space.
Ace Martial Arts Supply Belt Display
If you're looking for a karate belt holder with a solid frame, Ace Martial Arts Supply has got you covered. The wood slats are 1⅞" and the dark finish gives it natural wood tone look. Plus, the included elastic straps make mounting your belts easy as can be. This display rack can hold up to 10 belts total.
BUY ON AMAZON
Century Martial Arts Cylinder Belt Display
Century Martial Arts Belt Display – Holds 10 Levels of…
CELEBRATE YOUR JOURNEY – Commemorate your martial arts achievements in an attractive display…
SHOW OFF IN ANY ROOM – No hanging or tools needed for installation as this trophy case can be…
NO DROOPY BELTS – Unlike racks which extend horizontally and eventually have the belts sagging…
Century Martial Arts' cylinder belt display is a creative way to showcase your belts. Instead of traditional wall-hanging or some other method, you simply roll your belts into discs and stack them in this clear acrylic cylinder. The wood base and top protect up to 10 Karate belts from dust while keeping them on proud display.
KidKraft Wooden Martial Arts Display (8 Belts)
Sale
If you're looking for a cheap option that still looks good, this is the karate belt holder for you. It doesn't offer personalization like some of the more expensive options, but it's 18.5" wide by 24.5" tall and can hold up to 8 belts with easy-to-use elastic straps. Plus, there's a thinner wood piece on either side where you could hang a couple of medals!
Even though it doesn't come with a personalization option, the nameplate is large enough to easily personalize yourself with craft lettering. 
JEWERADO Martial Art Belt Display Wall Hanging for 8 Belts + Medals Holder
JEWERADO Karate Martial Arts Taekwondo Belt Display…
Size — Width 15.7" and height 26 ". Tailor-made for the martial arts belts, karate belts,…
Dustproof & Light weigh –karate belt holder is mainly made of felt fabric and transparent PVC….
Easy to hang up — Too convenient for you to take down and hang on. The wall-mounted design…
The martial arts belt holder is a great way to display your karate belts and competition medals. It is easy to install and does not take up a lot of space. The belt holder is also dustproof, which will help keep your belts clean.
This is an excellent and affordable way to display karate belts and competition medals!
DisplayGifts Belt Display Cabinet
Keep your belts in pristine condition with this display cabinet. The solid wood frame has a mahogany finish and can accommodate 11 belts. It's 26.5" tall by 16" wide, making it the perfect addition to any room. Plus, the clear door is made from kid-safe acrylic, so you don't have to worry about dust or other dangers damaging your belongings. There are metal brackets on the back for hanging purposes, and no assembly is required
RenKata Taekwondo Personalized Belt Display
This beautiful belt rack is perfect for displaying your Taekwondo belts, but can be used for any martial arts belt. It comes in two sizes – one that holds 8 belts and one that holds 10 belts. The wooden belt rack includes pre-installed wall mounting brackets and elastic bands to keep the belts secured to the rack. Our 18.5" wide by 30" tall Wooden Belt Rack makes a great addition to any room!
This design features a bar on each side where you can display your medals. You can personalize this belt rack with up to 12 characters of premium vinyl lettering. It is finished in natural color with a durable clear coat finish. 
Campfire Arts Custom Karate Belt Hanger
This is a more expensive display rack, but it is also cooler than the other racks we've mentioned. It is not as nice as the other racks, but it is still good. The other racks are nice, but they cannot compete with this carved wooden dragon sword. This rack can hold up to 12 belts and has a katana that hangs over the front. It also has two Rare-Earth high-powered Magna-Mounts to keep the blade in place. You can also personalize it by adding your student's name and a short statement.
The minute detail carved into the wooden blade is what sets this product apart and has reviewers raving. People have stated they love it both as a display piece and as a work of art. Please note that because each blade is personalized, shipping may take longer than usual. Nevertheless, it will be definitely worth the wait!
Single Black Belt Display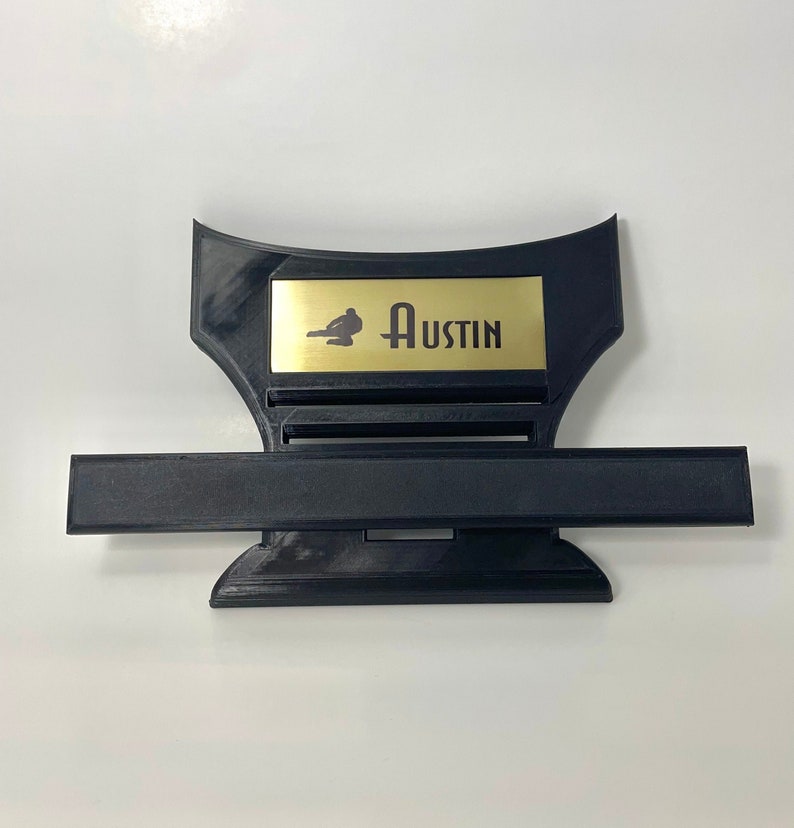 Here's a well-designed, beautiful and unique martial art belt rack that's handmade from bioplastic. It includes a personalized gold name plate and elastic bands, so you can display your belts with pride. These belt racks can accommodate one belt of any popular style, including Karate, Tae Kwon Do, Go-ju Ryu, etc.
Belt Display Types
There are many types of displays available for karate belts, and searching for the best one can be difficult. Here is a guide to help you choose the right type of display for your needs:
wall hanging rack
box or case storage
a round cylinder or tube stand
Wall Hanging Belt Display Rack
The most popular type of wall-hanging belt racks is the variant with multiple levels. There are many to choose from, but make sure to check how many belts each rack can accommodate (i.e., number of rows).
It can be specified as:
jiu jitsu belt display for 5 belts
8 belts karate belt display
10 level belt display
12 level taekwondo belt display
Ensure that the number of rows on the belt display matches the required number of levels for your martial art. We have provided a guide below for some of the most popular disciplines.
Karate belt display – 8 rows
Taekwondo belt display – 8 rows
Jiu jitsu belt display – 5 rows.
Judo belts – from 10 to 16 depending on the rankings split
Krav Maga belts – 6 rows
Aikido belts – 6 rows
DIY Karate Belt Display Ideas
The best part about these DIY karate belt displays is that they are easy to put together with materials you probably already have at home. All you need for the base is a piece of wood, sandpaper, a nail gun, and an elastic cord. For the belt display itself, you will need a screw gun and glue.
With a little time and effort, you can easily make your own karate belt holder! This frame can be customized to match your individual style, and with some basic woodworking skills, anyone can put one together. Check out this video from YouTuber Benjamin Pirillo for step-by-step instructions on how to build your very own karate belt holder.
How Do You Tie A Belt On A Display?
If you're looking for creative ways to display your belts in your living or training space, look no further! Here are some ideas:
Your BJJ Journey on Display
No two Juijiteiro's journeys are the same, but there is one thing that all successful ones have in common: hard work and determination. Without those qualities, you won't get far.
A BJJ belt display is a great way to show off your achievements. You know how much effort has gone into earning each one of those belts, and seeing them on display gives you a sense of pride.
Every time you look at your belts on display, you'll feel motivated to continue on your journey.
Interested in a BJJ uniform? Learn more about the BJJ gi!