If you're a large man who enjoys Brazilian Jiu Jitsu, finding a gi that fits can be troublesome. Most gis are made for smaller individuals and don't consider the needs of bigger guys. Fortunately, we have some options for you. Here are the best BJJ gis for big guys.
What Kind Of Big Guy Are You?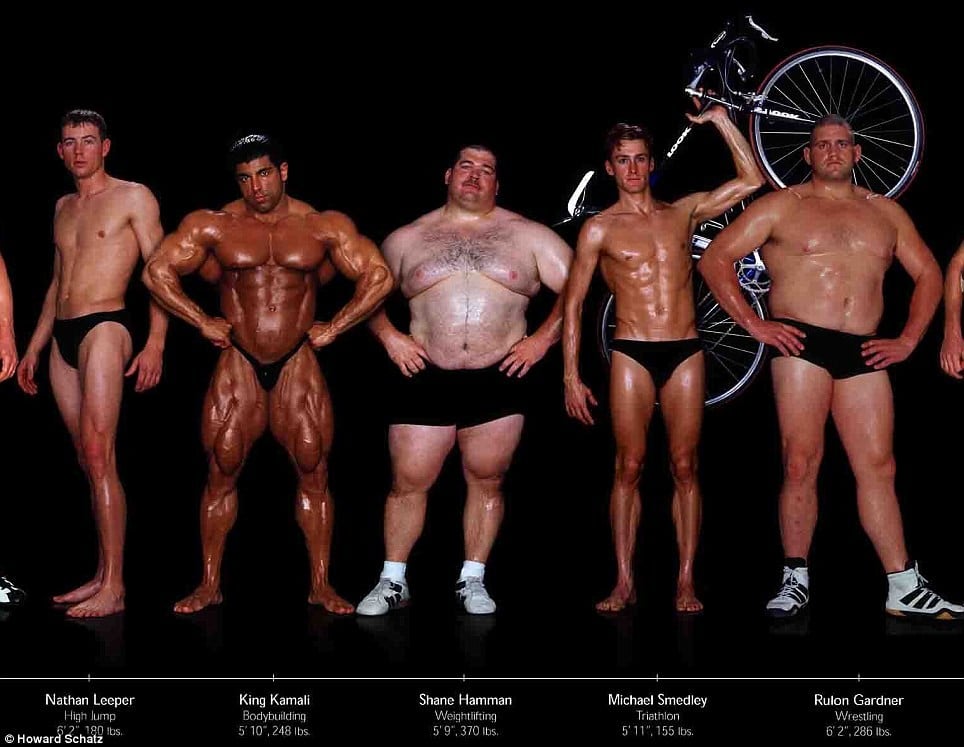 Depending on your frame and size, you will need to get a different BJJ gi size. Being overweight, having broad shoulders, and simply being large are not all the same.
You're Big In General
If you're a generally big guy, you should pick a big gi size, such as A4 (up to 6'4″ and 250lbs), A5 (up to 6'4″ and 275lbs) or even A6 (up to 300lbs and 6'6″). Most gis these days are available in A4 and A5, but if you need an A6 gi you have fewer options.
You're Muscular and Stocky
If you are muscular and broad-shouldered for your height (think Dean Lister), you will need an A2H or A3H gi. The 'h' in the size stands for husky or heavy. These types of gis offer more space in the torso and arms area for people with your body type. More plus sizes are being offered by stores as society becomes more inclusive.
You're Fat
When you are overweight, aim for an 'H' sized gi to give your torso more room. If you have a protruding belly, it might be difficult to find a BJJ that looks good on you because the 'H' size accommodates both bellies and torsos. I've found that most obese guys wear Fuji or Origin gis, so take a look at those brands.
Best BJJ Gis for Big Guys
Gold BJJ Aeroweave – Best BJJ Gi for Big and Tall Guys
Gold BJJ Jiu Jitsu Gi - Ultra Lightweight Men's...
40% LIGHTER THAN A STANDARD PEARL WEAVE GI ☁️ Our 275gsm Aeroweave gi is your new favorite...
AS STRONG AS IT IS LIGHT ????️ Your first reaction at a gi this light is probably, "how...
CLEAN AESTHETIC ???? Available in five clean colorways with minimalist branding. White, Royal...
The Gold BJJ Aeroweave is my favorite gi of all time and it comes in A2H and A3H. If you're a big guy but not super tall (i.e., short, muscular, fat or stocky), this is the best gi for you.
I love this gi because it's premium quality at an affordable price point. It's also the lightest gi ever made which makes it incredibly comfortable to wear while still being durable thanks to its reinforced stitching in key areas. This particular model also comes in sizes A4 and A5, so if you are on the taller side of things (but not gigantic) then I would definitely recommend checking this one out.
Fuji BJJ Uniform – Best BJJ Gi for Short Fat Guys
FUJI All-Around Brazilian Style Jiu Jitsu Uniform,...
Your All-Around BJJ (Brazilian Style Jiu Jitsu) Gi: The FUJI All-Around Gi (Kimono) is...
Designed For The Best Jiu-Jitsu: The FUJI All-Around Kimono top jacket is mid-weight with a...
For Comfort and Competition: Developed by 4-time Olympian, 2-time Olympic Medalist Jimmy Pedro,...
The Fuji BJJ Uniform is a great bargain for people who are plus-sized and want a standard gi. This particular model is likely the least expensive one available that can accommodate someone of size A6. I've owned it myself on more than one occasion and can say from experience that it's reliable if unspectacular.
Many veteran Brazillian Jiu-Jitsu practitioners are familiar with Fuji, one of the top manufacturers of BJJ uniforms. The All-Around Victory Gi is one of their best lines for larger guys. It comes in many sizes from A1 to A6, but men on the bigger side would be most comfortable in A5 or A6.
This gi is not too light and not too heavy. It is comfortable to wear, whether you are training at the gym or in a tournament. The fabric is 100% cotton and remains sturdy even after long periods of use. It's made with high-quality materials, boasts a stiff and thick collar, has multi-layered reinforcement at vital points. There are two small logos on the back and shoulder, but the Gi is mostly one color. There is a variety of colors available.
The Gi doesn't noticeably shrink after being washed multiple times, which is key because you'll have to wash it often. Although it's slightly more expensive than most Gis, its long lifespan makes it worth the price.
Pros:
Made of high quality fabric that lasts a long time.
Available in sizes A1-A6, and is plus-size friendly
The fabric has multiple layers of stitching in areas that experience a lot of stress, so it is less likely to tear.
Quite reasonably priced
Cons:
May shrink a bit after it is washed.
Sanabul Essentials – Best Cheap BJJ Gi for Big Guys
Sanabul Essential BJJ Gi for Men | Brazilian Jiu Jitsu...
Choose Sanabul Essential Jiu Jitsu Gi for the Ultimate BJJ Experience: Sanabul is the go to...
Get a free Sanabul BJJ Belt with Purchase: Get a free Brazilian Jiu Jitsu belt (any color) with...
Tested by the Best: Top competitors like Gilbert Burns, Guilherme Bomba, and John Danaher trust...
If you're a large man who wants to look like you're wearing a Gold BJJ gi but are on a budget, Sanabul has the perfect solution for you. Even though they were founded in 2014, they have already become a fan favorite with their product, Sanabul Essentials Version 2. It's high quality and very affordable.
What sets this Gi apart is the company's dedication to customer feedback. Version 2 is an upgraded form of their older product that they changed based on reviews from purchasers. Additionally, it is preshrunk, so you can wash in cold water as many times as needed without affecting the fit, and designed to be a snug yet comfortable for individuals of all sizes. If you find it too large after first use, machine washing it in hot water should do the trick.
The Preshrunk BJJ gi for big guys is a great choice for those looking for an inexpensive and lightweight option. The pearl weave fabric is pre-shrunk, so you don't have to worry about shrinkage, and the reinforced stitching makes it durable. The tapered design provides a comfortable fit, and it comes in sizes A0-A4. The only downside is that it can be hand washed only.
Your Jiu-Jitsu Gear Brazilian Jiu-Jitsu Uniform
Your Jiu Jitsu Gear Brazilian Jiu Jitsu Premium 450...
100% USA company. Our profits stay in the USA. Many companies are sending their profits to...
Made by people that have been on the mat for more than 1/2 century. We do it.
You can customize your BJJ GI the way you want. Logos and patches from your school.
Although it's not a household name, the Your Jiu Jitsu Gear Brazilian Jiu-Jitsu Uniform is still a top quality garment. It holds its own against other entry-level Gis in this price range and is definitely worth considering if you're shopping for a new Gi.
The Your Jiu Jitsu Gear Brazilian Jiu-Jitsu Uniform is perfect for those new to the sport who are eager to start training. It's a well-crafted and durable Gi that doesn't break the bank. Be mindful of sizing though as some wearers have noted that it runs larger than expected.
Features:
550 gms Pearl Weave Fabric for high durability and low weight means it will be long-lasting
Pre-Shrunk cotton fabric limits the Gi from shrinkage due to washing and drying
Completely blank appearance, giving plenty of space for patches or logos
Available in a range of sizes and colors
Has a rubberized collar for better wear and added hygiene.
Well-constructed, allowing for freedom of movement
Comes with a free belt on all the white Gi's
Elite Sports BJJ Gis
Elite Sports BJJ GI for Men IBJJF Kimono BJJ Jiu Jitsu...
✅ ADVANCE SIZING: Our sizing is superior to any other brand out there, we do not believe in 1...
✅ NO SHRINKING- MACHINE WASH IS OK- Lets be realistic most Gi brands want you to hand wash...
✅ IBJJF APPROVED – This IBJJF GI is approved from International BJJ Federation, so you can...
The Elite Sports Ultra Light BJJ Gi is the perfect balance of form and function. It fits great right out of the box and looks good too. You'll never feel constrained in this Gi, which means you'll be ready to take on any challenge or opponent that comes your way.
The Elite Sports Ultra Light BJJ Gi is comfortable, highly durable, and well-stitched. There's also space for patches, which is great. This product also has an anti-odor and anti-microbial treatment. I would suggest washing it in cold water as HOT water will cause shrinkage over time.
Features:
Made from a lightweight 400-gram Pearl Weave pre-shrunk fabric
Reinforced stitching in the seams and other key areas add to greater durability and overall strength
The fabric is treated with an odor resistant and anti-microbial compound, so you don't have to worry about bacterial growth or any fungal infection.
Available in a variety of colors and sizes so finding the perfect fit will be easy
IBJJF approved and available in unisex styles
Comes standard with a free white belt with stripe bar
Hayabusa Goorudo 3 Jiu Jitsu Gi
Hayabusa Goorudo 3 Gold Weave Jiu Jitsu Gi - Black, A0
MATERIAL: Jacket: 550-GSM gold weave cotton. Pants: 12oz twill cotton with stretch drawstring....
DURABILITY/QUALITY: This gi was made to be sturdy, tough, and durable to withstand hard...
FIT: Gi weight per size: A0 - 3.9 lbs, A1 - 4.2 lbs, A2 - 4.5 lbs, A3 - 4.6 lbs, A4 - 4.7 lbs,...
This list has options that are more beginner-friendly, like the Gi being lightweight and inexpensive. But some of you who've been practicing Brazillian jiu-jitsu for a while now may prefer something with a sturdier build. If you're tall and muscular, then Hayabusa Goorudo 3 is perfect for you—it comes in sizes A0 to A5 (A5 size shrinks the most after washing).
Hayabusa is one of the best BJJ brands available, and the gold weave Goorudo 3 is a perfect example of their excellent craftsmanship. This gi fuse's the Single Weave design with the Double Weave to create a unique and stylish product.
The Gi is heavier than most–it's made of 550 GSM material–but it adds to the durability and comfort of the product. When it comes to style, Hayabusa goes overboard, which is something that many athletes who compete in tournaments want. The Gi contains patches on different areas such as the lapel, chest, back, shoulders, and legs; these pieces are also decorated with kanjis meaning words like "Courage," "Strength," and "Respect."
Features:
Pre-washed
Heavyweight cotton fabric with gold weave
Comes in sizes A0-A5
Available in black, blue, grey, and white
Pros:
Pre-washed so you don't have to worry about the color fading
Perfect for professionals who want heavyweight and durable Gis
Comes in the sizes A0-A5 and can fit large people comfortably
Available in black, blue, gray, and white.
Cons:
Expensive
Not pre-shrunk and can shrink when washed
The Ronin BJJ Gis for Men
Ronin Signature BJJ Gi Uniform – Premium Light Pearl...
Perfect for Training: Looking for a lightweight and comfortable training uniform which allows...
Premium Quality Materials: This jiu jitsu uniform comes with pants and jacket and is made with...
Comfortable and Light Texture: This Brazilian jiu jitsu costume was designed having in mind a...
If you're interested in trying out jiu-jitsu or are a seasoned vet preparing for tournaments, the Ronin BJJ Gis is a great choice. The material is perfect for those training in hot and humid weather as it's very breathable. Also, the Gi features a wonderful design by calligrapher Thomas Docherty.
If you're looking for a Gi that won't disappoint, this is the one. Despite having few reviews, it has received high praise from some big names in online forums. It's comfortable and comes in eight different sizes to fit anyone perfectly. And if you're taller than most people, don't worry – there are three sizes just for you (A1L, A2L, and A3L).
The Gi fabric is not only lightweight but also sturdy, so you'll be able to move quickly and easily at the gym. It's also stylish and affordable, making it a great choice for larger guys. Plus, it's comfortable too!
Features:
Made of 500 gsm gold weave fabric
Wide and sturdy lapel
Comes in sizes A1-A5
Includes a Gi bag
Pros:
Breathable and easy to move in
Extremely comfortable and suitable for beginners
Comes in the sizes A1-A5 and can fit large people comfortably
Can be machine-washed and has a shrinking rate of 1-3%
Cons:
Not pre-shrunk and can shrink when washed
Expensive
What Size BJJ Gis Should You Wear?
It can be hard to find the right size of BJJ Gi. This is because different brands have different size charts. You need to find a size chart for the brand of BJJ Gi you want, then use your height and weight to find the best size. If you are taller than 6′ ft or weigh more than 180 lbs, you might be able to wear a size A3 or larger.
However, some people might have a problem finding the right fit. This is because manufacturers usually design clothes with height and weight in proportion. So if you are a big guy, but your weight does not match your height, you will have trouble finding clothes that fit well. Even if the clothes fit snugly, the sleeves or trousers might be too long. That is why we have made a list of the best BJJ Gis for big guys so that it will be easier for you to find the right Gi.
| Size | Height | Weight |
| --- | --- | --- |
| A0 | 5ft 4" – 5ft 7" | 132 – 143lb |
| A1 | 5ft 7" – 5ft 9" | 143 – 158lb |
| A1L | 5ft 11" – 6ft | 143 – 158lb |
| A2 | 5ft 8" – 6ft | 158 – 180lb |
| A2L | 5ft 11" – 6ft 2" | 158 – 180lb |
| A3 | 6ft 1" – 6ft 3 | 180 – 209lb |
| A3L | 6ft 3" – 6ft 4" | 180 – 209lb |
| A4 | 6ft 1" – 6ft 4" | 209 – 264lb |
Things to Look Out For When Buying BJJ Gis
Color
In the past, most BJJ Gis were white. But now, many companies have started making blue, black, grey, pink, and other colored Gis. If you are just starting training at the gym, it doesn't matter what color your Gi is as long as it is plain and your professor allows it.
If you're going to compete in tournaments, you have to wear a white, black, or blue uniform. The International Brazilian Jiu-Jitsu Federation doesn't allow different colors for the shirt and pants, or different colors for the collar and the rest of the shirt.
Weave
The weave of your Gi plays a big role in your mobility and comfort. Many types of weaves are out there, some of which are:
Single Weave – A single weave makes a Gi less expensive and lighter, but it is not as strong as a double weave. If you are new to BJJ or unsure if you will continue training, a single weave can be a good choice.
Double Weave – Double weaves are thicker than single weaves, making them more durable. They are strong and comfortable, but they are also heavier, making them unsuitable in hotter weather.
Gold Weave – Gold weaves are a type of fabric that is both strong and lightweight. It is made by combining the best elements of single weave and double weave fabrics.
Pearl Weave – Pearl weaves are relatively new, but they are already very popular. They are designed to be lightweight and durable while also being breathable, making them perfect in all conditions.
Collar Fill
Gi collar fills are usually made of cotton or rubber, and each has its pros and cons. Cotton collars are less restrictive, making you more comfortable. On the other hand, if hygiene is your priority, rubberized collars are a better option as they are less prone to bacteria and other germs.
BJJ Gi Pants for Big Guys
If you're only looking for pants, try Fuji! They fit all big guys just fine.
Conclusion
While it may be tough to track down BJJ Gis for bigger guys, it's not an impossible task. Even though most Gi manufacturers don't create products specifically for tall and large people, some companies make gear that can fit them well. So what are you waiting for? Determine your height and weight, then order the best Gi for you today!