It's hard to find the best BJJ gi for your needs. You might not even know what to look for when shopping online.
Not only is it tough to find the best BJJ gi, but it can also be expensive. You might end up spending a lot of money on gear that you don't end up liking.
My guide will help you find the best BJJ gi for your frame and training style, without having to waste time or money on uniforms that won't work for you. I have personally tried and tested all the major brands, so you can trust my recommendations.
I, personally, love Brazilian Jiu Jitsu and have found it to be a wonderful martial art over time. However, I understand that everyone enjoys different things and that's why I decided to create this guide – so people can find what works best for them.
In it, we'll start off with my top picks in several key categories before going more in depth about other important details to keep track of while shopping around. Additionally, I'll review some popular gis which are often seen on mats or online
The Best BJJ Gis in 2023
Here's a table with the best BJJ gi brands and companies in 2023:
Fuji Suparaito Brazilian Jiu Jitsu Gi
FUJI Suparaito BJJ GI and Martial Arts Uniform -...
For the Serious Competitor: Our flexible gi is designed to enhance your skills so you can apply...
Lightweight: This FUJI Gi comes with a 350g pearl weave jacket paired with triple-reinforced...
Premium Material: Our Gi is made with a soft, FUJI premium cotton blend that will work as hard...
The Fuji Suparaito Gi is perfect for those who are looking for a lightweight gi that is durable and comfortable. With triple-reinforced ripstop pants and a stiff collar with extra rows of stitching, this gi will withstand any training session. The bungee cord drawstring ensures a secure fit, while the contrast stitching adds a touch of style. The pearl weave fabric is soft and breathable, making this gi ideal for both competition and training. Available in white, black, or blue.
This is one of the most stylish gis of 2023 and easily earned a spot on my best BJJ gi guide.
Pros:
Lightweight gi made with pearl weave
Triple reinforced ripstop pants
Multi-layered stitching for durability
Available in white, black, or blue
Cons:
Can be tight around thighs
Gold BJJ Foundation Gi
Gold BJJ Foundation Gi - Pearl Weave Jiu Jitsu Gi for...
THE PERFECT EVERYDAY GI ???? Medium weight 450gsm Pearl Weave jacket, paired with 8oz ripstop...
RASH GUARD NECK LINER ???? Keep your neck and shoulders cool and comfortable, with this gi's...
IBJJF COMPETITION LEGAL ???? All 3 colors of our Foundation Gi have been carefully designed to...
Gold BJJ is well known for their lightweight Aeroweave Gi, and the Foundation Gi is their latest model.There's something about this gi that I really love – it's become my favorite kimono to wear daily.
The Foundation gi is a medium weight 450gsm Pearl Weave. It's not the lightest weight gi, but still has enough material to make it difficult for your opponent to establish grip. The Pearl Weave is smoothly soft and feels great even after washing the gi many times over.
One of my favorite features about this gi is the rash guard liner on the neck and shoulders. This keeps your neck cool and reduces chafing and friction.
If you've ever looked at the biggest BJJ tournaments, you've probably seen Gold BJJ gis. They are a favorite among competitors. The white, blue, and black Foundation Gi are all approved for IBJJF competition.
Another great thing about this gi is the 10oz ripstop pants. They are more durable, and they also breathe better than traditional cotton gi pants.
Although it is most certainly not the cheapest BJJ gi on the market by any stretch of the imagination, it is definitely a top draw when it comes to quality, mobility, and breathability.
This gi has a really clean look and some cool branded touches. The sleeve cuff detailing and the super stretchy elastic drawstring look great.
Gold BJJ's price point is very reasonable, and overall this is a high quality gi that deserves a spot in your collection.
Pros:
Ideal gi weight: light but not too light (450gsm Pearl Weave)
Crisp accents and branding
Reinforced stitching and the brand's 'you rip it, we replace it' guarantee
Rash guard neck and shoulders liner reduces chafing
Cons:
Offered in 3 colors (white, blue, black) but I'd like to see something flashy like red
Tatami Fightwear Estilo 6.0 Premium BJJ Gi
The Tatami Estilo 6.0 has received a lot of positive reviews. It seems that Tatami has collected all the positive feats from their previous gis and combined them all to create a perfect product that inspires athletes.
This gi looks excellent with every detail thought through; they feel like neither too much nor too little. The prints and embroidered Tatami and Estilo logos are not intrusive either.
The woven tape lining in the cuffs and the base of the jacket adds a nice touch. This gi provides freedom of movement. However, the pants can stick to the legs, especially when I squat down or kick the legs out.
In my opinion, this is the best BJJ gi Tatami has to offer.
Pros:
The gi feels excellent and is very comfortable.
The jacket is suitable for athletes with longer arms.
It is very durable with its pearl weave.
There are attractive colors and superb details.
Cons:
Pants might stick to the legs.
The gi may feel a bit heavier than other models.
It can be too warm for hotter summer days.
Storm Kimonos Stealth Matrix II Gi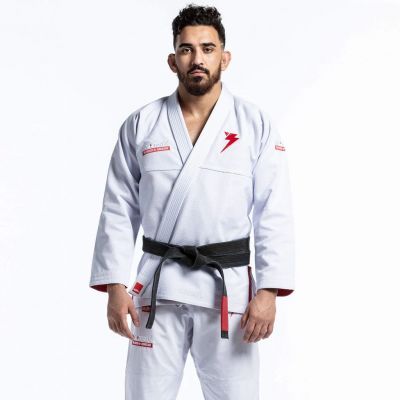 The Storm Kimonos Stealth Matrix II Gi is the perfect choice for those looking for a durable and comfortable Brazilian Jiu-Jitsu kimono. Made of 420gsm Storm proprietary Japanese Weave Fabric, this kimono is built to last and provides superior comfort in training or competition. The pants are made of Featherlight storm proprietary Breathe Tech Fabric, which is ultra-resistant and breathable, making this kimono perfect for intense training sessions. With a Zero Warp Collar and hidden mouthguard pocket, the Stealth Matrix II Gi is also extremely stylish, making it an excellent choice for competition or everyday training.
Venum Contender Evo BJJ Gi
Looking for the best BJJ Gi that won't break the bank? Look no further than the Venum Contender Evo BJJ Gi-White - A2.
Constructed from durable cotton, this Gi is built to withstand even the most intense training sessions. The 350 GSM pearl weave jacket and 230 GSM ripstop pants are both extremely breathable and comfortable, making this Gi perfect for long days at the academy. Plus, the inner custom woven tape and inner jacket screen print add a touch of style that will make you stand out on the mat.
Whether you're a beginner or a seasoned pro, the Venum Contender Evo BJJ Gi is a great choice for anyone looking for an affordable, high-quality Gi.
Pros:
Pre-shrunk Gi
Multiple color choices
Minimal design
Cons:
Fuji BJJ Uniform
FUJI All-Around Brazilian Style Jiu Jitsu Uniform,...
Your All-Around BJJ (Brazilian Style Jiu Jitsu) Gi: The FUJI All-Around Gi (Kimono) is...
Designed For The Best Jiu-Jitsu: The FUJI All-Around Kimono top jacket is mid-weight with a...
For Comfort and Competition: Developed by 4-time Olympian, 2-time Olympic Medalist Jimmy Pedro,...
All technicalities aside, this gi is super comfortable, durable, and well-fitting. It works well both for practice and competition. Many best Jiu Jitsu experts trust the Fuji BJJ Uniform, and it is among the most popular Jiu-jitsu garments on the globe.
Pros:
It is super durable.
Steep price for a high-quality garment
The garment is very reliable and trusted.
Cons:
It is a bit too heavy for hot weather conditions.
Shrinks in the dryer
Sanabul Core Series Competition Gi
Sanabul Core Competition BJJ Gi for Men | Premium...
The Perfect Fit: We take the guesswork out of sizing. Our Core series gi are the only preshrunk...
What's in Your Core? When you started training, the gi you wore was the last thing on your...
Tested by Pros, Created for You: Some of the top competitors in the world rep Sanabul, like...
There are many attractive details in the Sanabul Core Series Competition Gi. Cross stitching on the pants, embroidered logos, and a denser weave in the upper part look elegant and reliable. There is no loose material on this gi for an opponent to grip either.
As a fierce competitor to Fuji, they've improved this gi and launched the pre-shrunk Essential v2 model, which has already sold over 2000 times on various platforms!
Pros:
The design is elegant and attractive.
It is very lightweight.
The gi is highly durable and long-lasting.
The best price:quality ratio.
IBJJF certified and acceptable for both training and competition
Cons:
It shrinks when washed in hot water.
The sizes may not correspond to the body parameters.
Hayabusa Lightweight Jiu-Jitsu Gi
The Hayabusa Lightweight gi is the best for training and competition. A versatile gi for all styles of Jiu-Jitsu. Prepare for whatever comes your way with an all-purpose gi built for an unpredictable sport. Its lightweight design is cool, comfortable and allows you to move effortlessly on the mat. The rugged construction withstands your most intense training sessions.
Pros:
It has a traditional, simplistic, and elegant look
Reinforced stitching for increased durability and strength
The gi is lightweight and suitable for training in warm weather
Cons:
The gi is not tapered, can look a bit baggy.
The pants can get loose with time.
The material may fade and shrink after a while.
Gameness Jiu-Jitsu Pearl Gi
Gold BJJ Foundation Gi - Pearl Weave Jiu Jitsu Gi for...
THE PERFECT EVERYDAY GI ???? Medium weight 450gsm Pearl Weave jacket, paired with 8oz ripstop...
RASH GUARD NECK LINER ???? Keep your neck and shoulders cool and comfortable, with this gi's...
IBJJF COMPETITION LEGAL ???? All 3 colors of our Foundation Gi have been carefully designed to...
All in all, the model of the Gameness Pearl Gi is exceptionally comfortable, durable, affordable, nice-looking, and reliable. If you are looking for the best BJJ gi that could withstand hard training sessions, keep you from overheating, and last for a long time, this choice is right for you.
Pros:
Durable and reliable
Lightweight and keeps you cool
Excellent price-quality ratio
Cons:
Pants may appear stiff and tough
Might shrink after washing
Best BJJ Gi Buyer's Guide
As a person who has been doing Jiu Jitsu for many years, I understand the worries of people who want to shop for the best BJJ gi online. The main concern is fit and design because sometimes we can receive a form that completely differs from what we have seen online.
The traditional BJJ gi is a lightweight piece of clothing that consists of three parts: loose-fitting pants, a jacket, and a cloth belt, and you need to know about it to make the best choice.
The next step is about deciding what type of BJJ gi you need. A good gi should be both lightweight and durable to last in hard sparring. The best BJJ gi for your training needs to be durable to withstand all types of punishment while remaining comfortable enough to keep your body temp low (especially during the summer). Another thing is that your BJJ gi should not restrict movement, though it is required to be of a slim fit and feel tight.
After a while, you'll learn how to spot a high-quality Gi, and the brand name may not matter so much. But until you're at that point, you'll want to look for a BJJ Gi brand with a good reputation, to be confident you'll get the best for your money.
Also, other factors can influence your choices, such as color, material and weave, collar fill, and cost. Let's examine all of them in detail.
Don't forget to get a mouth guard!
Cost
Price is essential because your new Jiu-Jitsu gi must not cause a disaster to your wallet. It should be worth the money spent on it. I once bought a 40-dollar BJJ gi from Decathlon, and it was horrible. This was my first year of training, I was not sure that I would continue, and I would rather not waste my money.
The typical price for a BJJ gi ranges from $40 to $400. Popular brands such as Sanabul or Fuji start at $50, while Origin begins at $150 and goes up to $300. The best BJJ gi usually costs between $100 and $200. This price fluctuation may seem strange, but there are reasons for that. So, if you are a beginner and not 100% sure that you want to continue, look for a cheap BJJ gi.
Keep the price-quality ratio in mind.
Color
The typical Brazilian Jiu-Jitsu colors of gis that are accepted by the International Brazilian Jiu-Jitsu Federation are white and blue. Keep that in mind if you are planning to compete.
However, many manufacturers nowadays have started making gis in different colors. If you would rather not compete and need the best BJJ gi just for training, you can choose any.
Fit and Shrinkage
All gis fit differently around the chest, waist, and shoulders. Some of them shrink much, and others are pre-shrunk.
The sizes vary from A0 to A5, where an 'A' stands for 'adult.' These are the most common sizes. Make sure to check the size chart provided by the brand. If you're a big guy, pay attention to the sizing for sure!
Every gi also has its rate of shrinkage. That's how much a gi shrinks after washing. The smaller the shrinkage rate is, the better a gi will fit after you wash it.
Collar Fill
Usually, gi collars are filled with rubber or cotton. Rubber is a more popular material for the collar. However, cotton is more appreciated by some players because it feels more comfortable. As for rubber collars, they can make you more vulnerable to collar chokes. Their most significant advantage is their resistance to bacteria that are harbored in millions by cotton collars.
Different Types of Weave
The type of weave for your best BJJ gi is also essential. They differ in quality, durability, and breathability. The choice of the weave is a matter of comfort and durability for most. It's not fun to roll with a double weave in hot weather; this, I know for sure!
Single Weave
The single weave is for the most inexpensive gi's. Such garments are lighter and very basic, so they will be suitable for very hot weather or when you are starting out. However, if you are an advanced athlete, I would not recommend it.
Double Weave
A double weave gi is much more durable because of the extra thickness of the material. The double weave gi is not too expensive though it is long-lasting and efficient for hard and grueling sessions. Because of good quality, such a gi is more comfortable and popular among Jiu Jitsu practitioners.
Gold Weave
Gold weave combines the qualities of both single and double weaves. Such a garment is reliable, durable, and strong while lightweight and comfortable. The gold weave may appear more expensive, but it is worth every penny spent on it. If you want a lightweight gi that can last you for years, buy a gold-weave gi.
Pearl Weave
It is a new type of material, but has already gained its popularity as one of the best. It is lightweight, strong, and durable, allowing smoother airflow. Your body will be kept cool and comfortable, no matter how hot the place is and how hard your training session may seem. I would highly recommend you to purchase a pearl weave gi. Most of my choices for the best BJJ gi are pearl weave (or a hybrid that is based on this weave).
Jiu Jitsu Gis for Women
Because more and more brands are releasing gis designed specifically for women, it can be hard to know which one is right for you. I put together a comprehensive guide on the best BJJ gis for women, discussing some of the top options available.
How to Find the Perfect Gi Fit for You
The "A" size system for Brazilian Jiu Jitsu gis may look complicated at first, but it's easy to find the right size for you if you know your weight and height. I've created a basic guide below, although keep in mind that different brands have their own sizing charts. Whenever you're buying a new gi for Jiu Jitsu training, be sure to check the size chart so you get the perfect fit.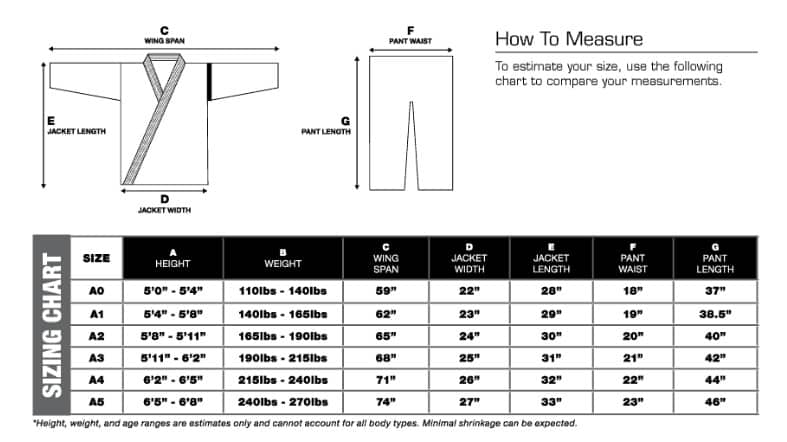 Remember, this size chart won't work for everyone. I am 6'1″ and 220 pounds (I wear an A3 in this size chart), every body type is different, and your gi should reflect that. The absolute worst thing in the world is rolling in a gi that isn't the correct size. Brazilian Jiu Jitsu gis shouldn't be horribly restricting or uncomfortable to roll in.
If you are on the heavier side and starting Jiu Jitsu for the first time, be prepared to lose weight while training. I have seen countless friends and training partners change their bodies dramatically in a short amount of time because of martial arts training.
If you're using Jiu Jitsu to slim down, don't spend a ton of money on a gi that won't fit you in the near future. Instead, buy a budget-friendly option like Elite's or Sanabul's before investing in a more expensive uniform.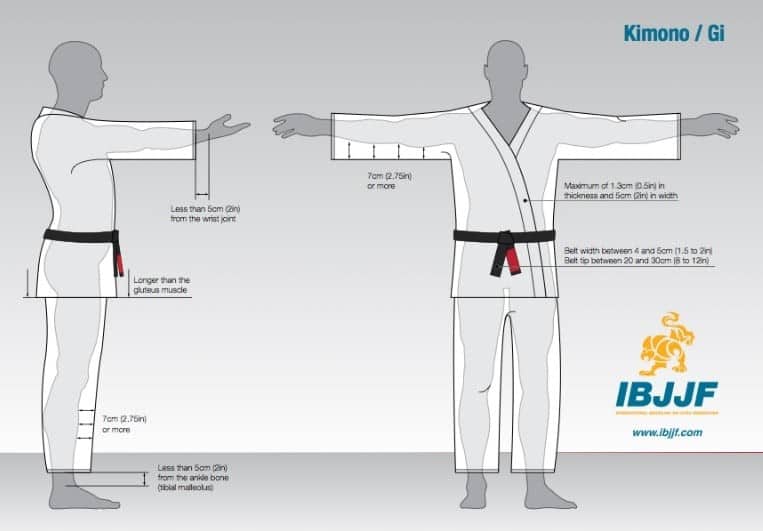 If you're unsure of how a gi should fit, this picture is very illustrative. It shouldn't be snug to the point of immobility, but it also shouldn't be so loose that it feels like you're wearing a blanket.
The top section of your gi should come down to right around your waistline, and when stretched out horizontally, the sleeves and legs should have a little bit of extra space at the wrists and ankles respectively. This will make sure unnecessary fabric isn't getting in the way or impeding movement.
If you're planning on using your gi for Brazilian Jiu Jitsu competitions, it's essential that the fit meets certain requirements. Check to see if the gi has been pre-shrunk or not – many brands will do this so that the gi fits much better right out of the box. Additionally, make sure you air dry your BJJ Gi instead of putting it in the dryer (unless you're intentionally trying to shrink it, of course).
What Makes The Best Jiu-Jitsu Gi?
There is no one correct answer to this question. It depends on what you need from your training, your goals, and your personal preferences. Some people prefer softer materials that won't overheat as quickly in hot conditions, while others go for the sturdier option that will last longer. The material, fit, and durability are all key factors here, so it's best to try out a few different models before settling on one.
What Color BJJ Gi Should I Get?
Only white and blue colors are allowed for competitions according to the IBJJF regulations. If you are a beginner and need your gi just for training sessions, you may choose any other color you like.
How Tight Should a BJJ Gi Be?
Your BJJ gi should be comfy, with the sleeves and pants ending no more than 2 inches from your wrists and ankles. It shouldn't be baggy, but it also shouldn't restrict you from performing jiu jitsu moves.
The kimonos tend to shrink when they are washed in hot water and machine-dried. Do not opt for a bigger size in the hope it will shrink, but read the specifications beforehand. If a gi is marked as pre-shrunk, you need to take your exact size. Every brand has its sizing chart, so you should have a thorough look at it.
What Are The Requirements for a Gi in BJJ Competitions?
To participate in BJJ tournaments, BJJ gi measurements must meet the following requirements:
The athlete's gi jacket should be able to reach their thigh.
Their sleeves should be no more than 5cm away from their wrist when the arm in question is extended in a straight parallel direction to the ground below.
The BJJ gi pants worn by the athlete should end no further than 5cm from their ankle bone.
The three colors that can be worn to competitions are: white, royal blue, and black. Some of you history buffs might know that white is the traditional color of BJJ gis. It's said to represent purity and truth.
How To Maintain Your BJJ Gi?
There isn't a lot that needs to be considered when it comes to BJJ gi maintenance that wouldn't seem like common sense.
Always take your gi out of your gym bag as soon after training as possible and get it ready for washing. No one likes a partner whose gear smells bad!
BJJ gis are designed to be durable, but there are still a few care instructions you should follow. Washing in very hot water will cause the fabric to shrink and lose color. Use cool water instead and let it air dry, so it's ready for your next training session.
BJJ gis tend to last longer when you have more than one and alternate between them– this way, you're not waiting for one to dry after washing it.
What Do I Wear Under My BJJ Gi?
There are a few options when it comes to what you can wear underneath your BJJ gi. The majority of regular BJJ practitioners will wear rashguards underneath their gi.
While it may not seem like an issue, wearing a T-shirt can actually cause problems when practicing no gi BJJ. Without a gi, your T-shirt can easily become caught on your training partner's limbs during movements.
You have the option of wearing either a T-shirt or compression shirt under your BJJ gi, but you can also choose to wear nothing at all. Keep in mind that some gyms might not permit this, so it's always best to check with them beforehand. When I train, I just wear my BJJ gi by itself.
Can White Belts Wear a Black BJJ Gi?
One thing to remember is that it is the color of the belt that matters most, not the color of the gi. This means that a white belt can wear any color BJJ gi as long as it is approved by the gym. Additionally, a black BJJ gi is also perfectly fine for a white belt to compete in.
What I'm saying is, don't purchase a white BJJ gi and black belt combo just because it looks better than a plain white Gi with a matching white belt. Belts signify experience, while Gis do not.
How Do I Make My BJJ Gi Softer?
An easy method to make your BJJ gi softer is by using fabric softener! You may notice that the interior of lightweight BJJ gis are quite rough on the skin, which is why many practitioners wear rashguards underneath their gi. This protects them from both their opponents and their own gi.
Can I Bleach a White BJJ Gi?
Do not bleach your BJJ gi! I cannot stress enough how bad of an idea this is. Not only will it reduce the durability, but the bleach is so powerful that it will literally deteriorate the fibers within seconds.
If you want to whiten your gi, find a product that doesn't have such damaging effects as bleach. On the other hand, you can just brush it off and be alright with a BJJ gi that isn't perfectly white! You are bound to make it look less than perfect over time and that isn't a bad thing! That actually shows that you've been putting your time in on the mats.
How Long Can a BJJ Gi Be Worn?
The lifespan of a gi varies depending on several factors, but generally speaking, you can expect it to last for about two years. The quality of the gi is one of the most important factor – better-made garments will be able to withstand more wear and tear.
In addition, how well is the BJJ gi being cared for? Is it being washed after every wear in cold water, kept out of direct sunlight, and not coming into contact with any harsh chemicals or fabrics that could damage its fibers? Moreover, how frequently are you training? Some BJJ gis could literally last forever if they're only worn once a month. However, others might need to be replaced within a year if you train multiple times a day, several days per week.
If you have questions or need help finding the best BJJ gi for you, don't hesitate to reach out to me.