Yoga for BJJ has become increasingly popular among martial artists as a way to improve their flexibility and prevent injury. I decided to give it a try and see if it could help my Jiu Jitsu game. Here's my review of the Yoga for BJJ app.
What is Yoga for BJJ?
Yoga for BJJ is a paid membership site with an ever-growing library of Yoga classes designed to help you improve your BJJ. Classes range from 10 minutes to 40 minutes, and are categorized by skill level so that you can easily find the right class for you.
The beginner programs are easy to follow, and they help a lot. Sebastian is good at explaining the poses and why they help you move better and why they are useful for BJJ.
Who Created Yoga for BJJ?
Sebastian Brosche, a Swedish black belt and yoga studio operator with experience competing in BJJ, created Yoga for BJJ in 2013. You can learn more about Sebastian and what inspired him to create Yoga for BJJ by reading his interview with Daniel Strauss on the Raspberry Ape podcast, and in his Reddit Ask Me Anything (AMA).
Sebastian received his black belt from Eduardo Rios and competed in the European jiu-jitsu circuit with an impressive championship record.
IBJJF World Champion (2010** purple)
IBJJF European Open Champion (2011 purple, 2010 blue)
UAEJJF World Pro Trials Champion (2011 purple)
IBJJF European Open Championship Runner-up (2015 brown)
IBJJF World Championship 3rd Place (2014/2013 brown)
IBJJF European Open Championship 3rd Place (2015* brown)
UAEJJF World Pro Championship 3rd Place (2013 brown)
Benefits of Yoga for BJJ
Improvement in my flexibility that helped with all aspects of BJJ – Submissions, positions like berimbolo and inversions. Takedowns (stretching out those hip flexors).
Increased range of motion. Trying to do some of those crazy 10th planet submissions are a lot easier when your hamstrings and hip flexors aren't constantly working against you.
Faster recovery time as I wasn't feeling that usual next morning stiffness and soreness. Your body will be supple like a leopard.
Increase in agility and the ability to flow between positions. Think when you are flowing through your guard retention on a standing opponent, you need to be able to move push, pull, invert using all your body and keeping your hips high.
Here's a sample class:
First Impression
Yoga for BJJ is the perfect yoga platform for those who practice Brazilian Jiu-Jitsu. From beginners' programs to guide you into the world of yoga, to injury rehab videos and programs for intermediate and advanced practitioners, there is something for everyone on this convenient online platform.
Price
Yoga for BJJ has an ongoing subscription fee, which you can pay monthly or annually. At the time of writing (December 2022), prices were:
Monthly Subscription – $19.99/month
Yearly Subscription – $179.00/year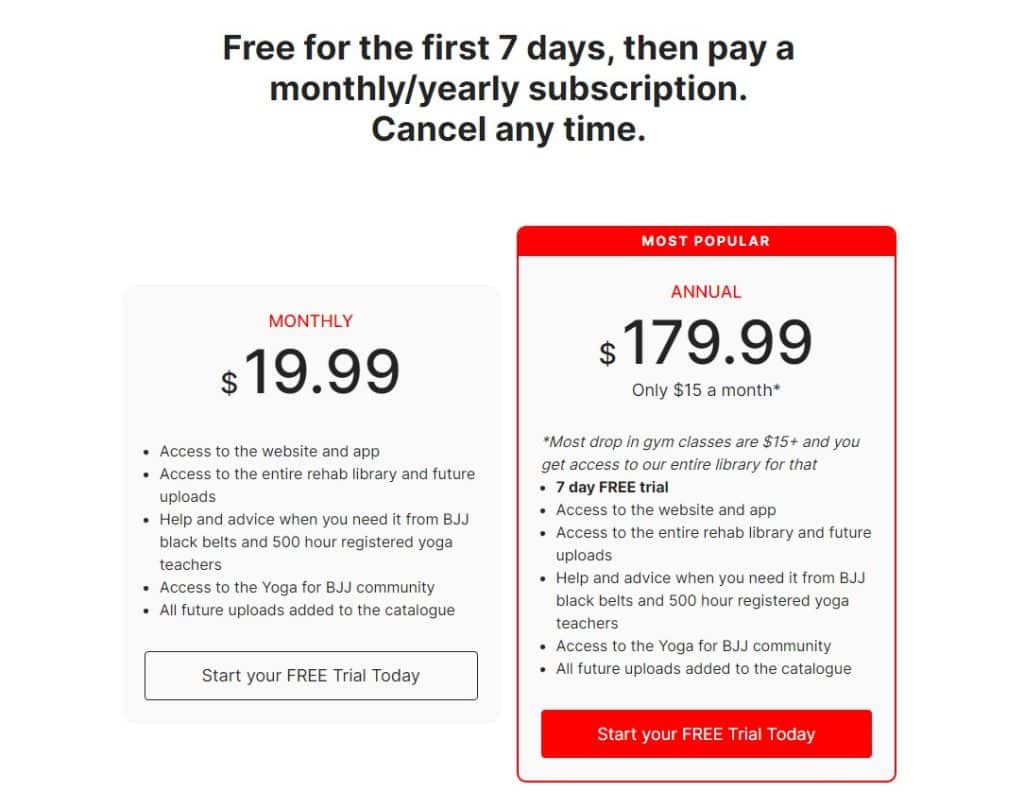 What Topics Does Yoga for BJJ Cover?

Yoga for BJJ has everything covered. Content for newbies all the way up to advanced practitioners.
There is a complete library that includes:
rehab videos
warm-ups
cooldown videos
specific body parts
morning yoga
mobility flows
desk workers yoga
yoga for strikers and more
Instructors
Sebastian Brosche
The head instructor is Sebastian Brosche. I have covered Sebastian and his achievements earlier in the review. But, you can find more about him here.
Stine Brosche
Stine is a well-experienced yoga instructor, and the reason why Sebastian decided to try yoga in the first place. She is also his wife. If you want yogic progressions that are both technical and detailed, Stine's sections are definitely for you.
Adam Ellis
In 2019, Adam Ellis won the British open Nogi and English open Nogi championships as an adult black belt under Andy Roberts. He was also ranked as the top UKBJJA adult black belt of 2019 and IBJJF British National Champion at purple and black belt.
Sarah Draht
Not only is Sarah a Canadian black belt and BJJ instructor, but she also teaches Muay Thai and Yoga. She supplements Sebastian's programs perfectly; she is an excellent teaching Yogi who goes above and beyond to make sure her students understand the material.
Rosi Sexton
Rosemary Ann Sexton, lovingly known as Rosi by fans, is a world-renowned MMA athlete, osteopath, and government official from Britain. She's best-known for her past UFC competitions, where she unapologetically dominated her opponents. Nowadays, you can find Rosi teaching the rehab section on their site!
What's Great About Yoga For BJJ?
Instructors: I thoroughly enjoyed the quality of instruction on the website, especially from Sebastian. Every pose is gone through in detail with great knowledge and care, showing that he knows what he is doing. Not only that, but Sebastian makes learning fun with his personality.
Clean and Simple Interface: The Yoga for BJJ website and app are easy to use. You can download the content to your phone, so you can do yoga even if you're traveling or in a remote location. The controls are quick and easy to use, so you won't have any problem navigating through the website.
Video Quality: The production quality is superb. The audio and video are both clear and easy to follow. There are also instructions that are easy to follow. Some of the videos even cover every body part, so you will never get bored watching them. However, some of the live classes are recorded with a phone, so the video quality is not as good for those videos. But there are not many of those videos. Additionally, live video production can be very challenging. 
What's Not So Great About Yoga for BJJ?
A Little Expensive: Yoga for BJJ is cheaper than your average yoga class. That being said, you will spend $119.99 per year on all the content. It may seem a little pricey if you do not have the budget. But I feel like the price is justified with the extension and quality of the library.
No Angles In Videos: The website Yoga for BJJ does not have any different angles or views of the moves being demonstrated. I tried it, and it was okay because I had proper yoga instruction before, so I knew where to place my hands or how to position my hips in specific poses.
No Lifetime Access: I dislike monthly subscriptions. But I think that yoga for BJJ is a good value and the prices are reasonable. I would like to have the option to buy all the content at once and keep it forever. That way I can go back to it whenever I need it.
Is Yoga for BJJ Worth It?
If you're looking for a way to start your yoga journey, Yoga For BJJ offers an expansive selection of beginner-friendly programs. But don't forget that nothing beats attending classes in person – real life instructors can provide insight on the nuances and complexities of yoga!
Once you feel comfortable with the basics, though? That's when Yoga For BJJ becomes especially helpful; it provides extra knowledge as well as keeping practice accountability at its peak. Overall, I'd recommend giving it a go if your understanding is solid enough to move forward – there may be some poses you've never encountered before, waiting within their vast range!
Yoga fanatics who have been hitting the mat for two years or more may feel like they've seen it all, but this program could be just what their practice needs! Even if you already stretch daily, why not shake things up and explore a world of top-notch yoga material? So whether you're new to namaste'ing or looking for something different – give this affordable option a shot.