Brazilian Jiu-Jitsu is undeniably one of the best martial arts sport to get your kids involved in. It helps them gain confidence, discipline, resilience, and technique. Besides, BJJ is a whole lot of fun for children. Getting your kids into Jiu-Jitsu can be easy, but the problem comes when shopping for a kids BJJ gi.
It's pretty challenging to get a hold of a Jiu-Jitsu gi that is lightweight, durable, affordable, and fits your kid well. Make any mistake, and you'll have to replace the Gi within a few months.
Luckily, here at BJJ Bear, we've done all the footwork for you and come up with a rundown of the best Jiu-Jitsu Gi for kids. Our picks are from popular brands, and their quality is impressive. You can be confident that your kid will outgrow any of the Gis we've reviewed and even pass them down to younger kids because they will be as good as new.
We were also keen on finding affordable kids BJJ Gis because children tend to outgrow their kimonos pretty fast. At least you won't worry about spending a lot of money on Gis every other year.
Best Kids BJJ Gis at a Glance
Finding high-quality Jiu-Jitsu Gis for kids can be a daunting task. As such, we consulted with experts and scoured the internet for information on the best Kids BJJ Kimonos you can buy. Below are some of the top-rated options in 2021:
Tatami Kid's Fightwear Nova Absolute Gi – Editors Choice
FUJI- Kid's BJJ Uniform, BJJ Gi with Belt, Cotton-Blend...
BJJ Gi: FUJI's BJJ uniform for kids is a mid-weight Gi, featuring a durable jacket and pants...
BJJ Uniform for Kids: The BJJ Gi for kids offers a stiff, thick collar for maximum sturdiness...
Jiu Jitsu Gi For Kids: The FUJI Jiu Jitsu Gi for kids is made with special reinforcements for a...
Tatami Fightwear is one of the oldest and most popular brands in the world of Brazilian Jiu-Jitsu. They are known for making top-quality fighting gear, meaning you can never go wrong with any of their Gis. We picked the Nova Absolute as our best choice because it is the entry-level Gi from Tatami. So, if your kid is willing to take a trip down the Brazilian Jiu-Jitsu road, the Tatami Nova should be your best bet.
The lapels on this kid's BJJ Gi are designed to be thicker than most brands. The extra thickness makes Tatami tough and strong. We also like how Tatami rubberized the lapels to help in wicking away sweat and preventing bacteria build-up.
You'll also appreciate how the Tatami Nova features a pearl weave jacket and 10oz cotton pants. This weave is meant to boost the durability and overall strength of the jacket.
As you well know, most kids prefer to wear lightweight Gis. Luckily, the Tatami Nova is made from 100% cotton to ensure that it remains lightweight without losing durability.
The stitching on Tatami Nova Kids BJJ gi is pretty impressive. We are talking about four rows of stitching. Moreover, all parts exposed to lots of pulling have also been reinforced with high-quality stitching.
Pros
It has a tighter cut than other brands
Lightweight fabric
Venum Contender 2.0 BJJ Gi – 1st Runner Up
Venum is yet another reputable brand when it comes to BJJ and MMA fighting gear. The company has been around for quite some time and has proven to be among the best in the industry. So, if you are looking for a top-of-the-line kids BJJ gi, the Venum Contender 2.0 is the way to go. This Gi is available in both adult's and kid's sizes meaning you will both look good if you decide to clad this cool Gi by Venum.
As is the case with top brands, the Venum Contender 2.0 Gi features a pearl weave cotton fabric. This means that the kimono is extremely lightweight. Your kid can train during the hot summer months without worrying about comfort and breathability.
We also noticed that the Venum Contender 2.0 boasts a cleaner cut look than its predecessor. At least the Gi will fit your kid's body contortion in a way that will enhance comfort.
Moving on, the collar on this Gi has been reinforced with EVA foam, a feature that helps your kid resist an opponent's grip.
The Contender 2.0 rarely disappoints when it comes to aesthetics. The Venum logo and the signature snake logo embroiled on the upper back give this attire good looks.
If you choose to go with this excellent Jiu Jitsu Gi, it is available in several colors, including white, gray, black, blue, and navy blue.
Pros
It is super lightweight and durable
It has reinforced seams
Optimal moisture management
Cons
Fuji Kids Jiu-Jitsu Gi – 2nd Runner Up
FUJI- Kid's BJJ Uniform, BJJ Gi with Belt, Cotton-Blend...
BJJ Gi: FUJI's BJJ uniform for kids is a mid-weight Gi, featuring a durable jacket and pants...
BJJ Uniform for Kids: The BJJ Gi for kids offers a stiff, thick collar for maximum sturdiness...
Jiu Jitsu Gi For Kids: The FUJI Jiu Jitsu Gi for kids is made with special reinforcements for a...
Another kimono that is worth looking at is the Fuji Kids BJJ Gi. This brand is extremely popular and has been around for quite some time. It is a good option for those who are looking for something affordable without sacrificing quality and comfort. Below are some of the features that make it one of the best.
First off, the Fuji Jiu-Jitsu Gi for kids is made from a cotton-blend material. This material is lightweight and strong enough to last for years. Besides, the collar on this Gi has been designed to be stiff and thick. This design helps the collar to remain sturdy and comfortable.
The Fuji BJJ uniform does not disappoint when it comes to durability. It features special reinforcements to ensure that it remains tear-resistant. The stitching on this Gi is pretty good, and you don't have to worry about the seams coming undone.
What's more, this awesome Gi comes in various sizes and colors to suit your kid's preferences. Make sure you use the sizing chart as we found it to be accurate.
Pros
It is sturdy and durable.
It comes with a free white belt and sew-on patches
Stiff and thick collar
Cons
Sizing issues with some people
Sanabul Future Legend Kids BJJ Gi
If you are looking for a top-quality Kids BJJ Gi without breaking the bank, the Sanabul Future Legend might be your best bet. This brand has been around since 2014, and their Future Legend BJJ Gi has been tested and proven by professional fighters. With this cool-looking Gi, your kid will have fun training in the gym.
Unlike other BJJ Gi brands, Sanabul has its special sizing for Gis. You have to be careful when purchasing their Gis. Luckily, the company has an exclusive size guide that you should use specifically when buying the Future Legend Kids Gi.
The Sanabul is also serious about the looks of their Gis. For instance, this line of Future Legends has been designed to have an athletic cut. Your child doesn't have to worry about her looks when wearing this Jiu-Jitsu Gi.
Moving on, the fabric used to make this Gi is ultra-light and has been reinforced to ensure that it remains durable. At least it can withstand grueling training sessions without tearing. Besides, both the pants and jacket have reinforced double stitching to boost their durability.
Pros
Available in plenty of colors, including white, black, blue, and other combinations
Pants feature an elastic waistband
Has double stitching for durability
Vector Sports BJJ Gi for Kids
The Vector Sports Gi is an ideal attire for young kids looking to embark on Brazilian Jiu-Jitsu. The Vector company has a reputation for manufacturing high-quality fighting gear, and this BJJ gi is no exception. At a glance, you can see the work that has gone into the making of this kimono.
For instance, this awesome BJJ kimono is made using a pre-shrunk fabric, which you can't get in other brands. With this fabric, your kid won't have to worry about the kimono shrinking. Moreover, this fabric is pretty light, meaning it won't weigh your child down during training.
Unlike most cheap kimonos, you can count on the Vector Kids BJJ Gi to hold up well during rigorous training. All the stress points on this Gi have quadruple stitching to ensure that they won't tear or come apart.
The other impressive features on this BJJ Gi are the drawstrings and an elastic waistband on the pants. At least your kid can secure the pants with whichever feature he or she prefers.
Be careful with the sizing of the Vector Sports Gi because the company uses different sizing. Always refer to their sizes chart before buying this kimono.
Pros
Comes pre-shrunk
Comes with a drawstring and elastic waistband
Cons
Elite Sports Kids BJJ Gis
The Elite Sports is a high-quality kimono that is suited for everyday use. It is available in plenty of color options, making it a good Gi for both boys and girls. Judging from all the reviews about this Gi, it deserves to be among the best Kids BJJ Gi.
With a nice blend of cotton and polyester, this Gi can take rough handling quite well. Your kids don't have to be afraid of torn kimonos while grappling or rolling. Besides, this kimono is made using pre-shrunk fabric. You can wash and dry it without worrying about shrinking.
Unlike other Gis, Elite makes use of sweat dispersion technology in their fabrics. This feature goes a long way to reduce foul odors. Your kid can train hard without feeling any discomfort.
This Jiu-Jitsu Gi is available in 6 sizes, meaning that you will likely find the perfect size for your kid. Moreover, this brand has a simple size chart to guide you on the same.
Pros
Comes with a free white belt
Has a tapered fit & detailed stitching
Great for both boys and girls
Made from pre-shrunk fabric
Cons
It is a bit thick and stiff
Ground Force Premium Kids Gi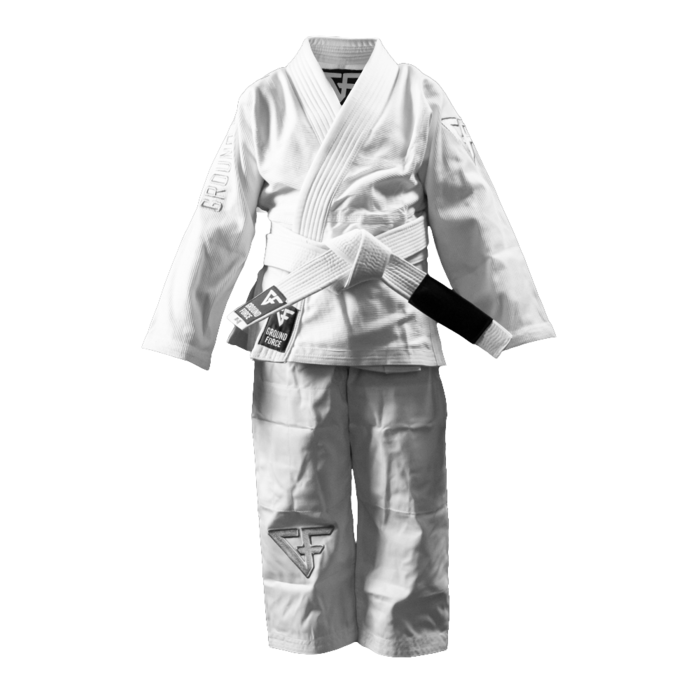 Ever wore a BJJ Gi and felt like you're clad in piece after piece of heavy armor? Well, the Gold Aerowave Gi is quite different because it combines the best of both worlds, strength, and weight (or rather the lack of it).
This awesome kimono has unique ultra-light properties that make it ideal for kids. Your young one will train and compete without any discomfort.
Despite having an ultra-light design, this BJJ Gi does not lack when it comes to strength and durability. Both the pants and jacket have reinforced stitching on all stress points.
The Gold BJJ Gi has a clean aesthetic that most kids will love. We are talking about a kimono with minimal branding and four clean colorways.
Pros
Aesthetically pleasing design
It feels ultra-light
EVA foam lapels
Ripstop pants
Reinforced stitching
Cons
May shrinks after washing in hot water
Best Kids Jiu Jitsu Gi – Ultimate Buying Guide
Now that you have a rundown of our top picks, you are probably wondering if a buying guide is essential. The truth is that you'll need it when it comes to the actual shopping. Or will you pick any Jiu-Jitsu Gi because we said it is good? Probably not! You have to use a guide to find a kimono that suits your kid's preferences. Here are some factors to consider when looking for the best BJJ Gi for kids:
Material
The material used to make a BJJ Gi determines how long the attire will last and how light it will be. Most companies use cotton as the primary material, but others also use a blend of cotton and polyester. You might also choose to go with hemp gis as they are known to be comfortable and durable.
Kids would prefer Jiu-Jitsu Gis that are made using a light material. A light gi helps them train without feeling exhausted. Besides, lightweight materials enhance breathability and comfort.
Colors & Design
Nowadays, wearing a BJJ Gi has become a fashion statement. As much as it is a training attire, your kid would prefer to wear something attractive. Most adults opt for the black and white classics, but kids love to play around with colors.
We always advise parents to involve their kids in the buying process. This way, the kids will get to choose their favorite color. The same case applies to the BJJ Gi design. Adults prefer to stick with a clean design, while kids love to go with colorful Gis. We are talking about Kimonos with lots of logos and signatures as well.
Shrinkage
A significant issue with most BJJ Gis relates to the shrinkage of some areas after washing. If you suspect that a product might shrink after washing, we recommend purchasing slightly bigger sizes to accommodate the size reduction. However, not all kimonos are prone to shrinking. Some are manufactured from pre-shrunk fabric to prevent such cases from occurring.
Stitching
There are several stress points for any piece of clothing. If you are looking to purchase a quality GI, ensure that you always look at these areas' stitching. The best Jiu Jitsu Gis have double or triple reinforcement, but if you find one with quadruple stitching (which is extremely rare), go for it.
Size, Fit & Cut
As we've mentioned in the review section, most brands have unique size charts. This calls for you to be extra careful when choosing a kids BJJ Gi. Check the size charts and consult with the support teams if you are not sure about the perfect sizes for your kids.
Also, you need to ensure that the BJJ kimono you are about to buy fits the body contortion of your kid. A loose Gi will make your kid vulnerable to attacks from the opponent.
Fitted cut BJJ Gis tend to be great for kids who have small bodies. An opponent will have a hard time trying to grab your child's Gi. Alternatively, you can choose to go with a classic cut BJJ Gi if your kid prefers to wear a kimono with more room.
Wrapping Up
Do you think it will be easy to choose the best Jiu-Jitsu Jitsu Gi for your kid with all this information? Most probably! Feel free to consult with your child's gym instructor or us whenever you are unsure about a BJJ Kimono.
All in all, we can vouch for the Tatami Nova Absolute Gi. This attire has been proven to be durable, comfortable, lightweight, and most importantly, it is affordable. It ticks all the right boxes in a quality BJJ Gi for kids.
What do you have to say about our picks? Is there any other product you feel we should have included on our list?