If Brazilian Jiu-Jitsu were a beauty contest, we would be rocking some nice-looking belts all the time. Unfortunately, you have to stick with one belt for months or years until you are promoted to the next level.
Sometimes your gym or club might offer you a BJJ belt, but the color, quality, and material might not be the best. I know it's a good gesture, but the 'free belts' might not hold up for long. You want a comfortable belt that is tailored to suit your needs without compromising on the IBJJF rules.
As much as you want to look good, invest in a Jiu-Jitsu belt that won't come undone during hard rolls. Luckily, we've done all the backbreaking work for you and reviewed the 7 best BJJ belts to choose from.
Editor's Choice
No products found.
The Hayabusa 2.0 Adult Jiu-Jitsu Belt is available in five color options: blue, purple, white, brown, and black. It also comes with high-quality double stitching for durability. The traditional patchwork is detailed and quite outstanding.
Top 7 Best Jiu-Jitsu Belts Reviewed
Hayabusa 2.0 Adult Jiu Jitsu Belt
Hayabusa BJJ belts are built to last for years. This company makes excellent-quality sporting gear. Also, most of their customers consider the price range of their products as fair.
Hayabusa 2.0 BJJ belt's quality is evident from their choice of material and the inclusion of other factors, as you will see below:
Material
The manufacturer uses twill cotton and gold spec weave material. This combination of materials makes this belt strong and durable. Another reason why we think this belt qualifies to be on this list of the best BJJ belt is the double seams for extra reinforcement.
Excellent Stitching
The belt has eight rows of stitching. The quality of the stitching is so good that this BJJ Jiu-Jitsu belt can last several years with the required care and maintenance.
Once tied correctly, the knot stays intact even during the intense rolling or when playing closed guard or butterfly guard.
Pros
This belt is easy to tie
Detailed patch on one end looks outstanding
Cons
It's on the expensive end because of high-quality cotton
Ronin BJJ Gi Belt
The Ronin BJJ Gi belt is a product under the Ronin Brand. This company has been in business (Under Kinji San) since 1976, but the Ronin Brand Uniforms was established in 1980. Therefore, you can order this BJJ belt knowing that you will get a brand name with a great reputation.
Something to note: GI (or GI material) means the belt is composed of thick material that is hard for your opponent to grab.
Material
This belt is made of a blend of polyester and cotton material. This combination is strong enough such that one rank BJJ Belt will last you to the next rank. The poly-cotton material is further reinforced with a single core cotton layer.
Heavy-duty stitching
The Ronin BJJ belts have heavy-duty stitching, and the ends are stitched too. Therefore, no matter how hard you grapple, these belts will take the strain without bursting at the ends.
Bright Colors
One of the most distinguishing features of the best BJJ belts is color. In that regard, these Ronin belts have bold colors that don't run or fade with time or with many washing cycles.
Pros
These belts are machine-washable.
They come in a variety of sizes, starting at 109 to 130 inches
Bold color never change throughout the belt's life
Fuji Premium Pearl Weave BJJ Belt
Every factor that a BJJ belt should come with has been brought out perfectly in the Fuji belt. Once you tie this belt, your knot will not run loose.
Material
Fuji belts are made with cotton premium pearl weave fabric. At first, this material will feel a bit rigid, especially when new. However, it softens with time, and the Fuji premium pearl weave material becomes easier to tie.
Stitching quality
This Fuji belt is produced with premium stitching. Even with many washing cycles or regular use, the threads never separate. Their pre-shrunk sizes do not change much even after washing.
Patches on both ends
Some people say that the Fuji patches on both sides make it hard to hide the logo. However, with the extra stitching on the patched areas, the ends will stay intact even with frequent usage.
Pros
High-quality multiple-row stitching
The knot stays intact once you tie the belt up
Unisex BJJ belts
Cons
Does not come true to size – runs longer
Tatami Fightwear Adult BJJ Rank Belt
Tatami Fightwear has been in the market for more than a decade, offering belts, shoes, shirts, shorts, and other fightwear. If you get a belt from them, you will appreciate the quality of the craft that has gone into it.
Material
These BJJ belts are made of cotton. They are 4.5CM wide and 0.5CM thick, which means that the belt meets the IBJJF regulations. This material is thick, but the threads will stay intact even through hundreds of wash cycles.
Stitching quality
The belt comes with eight rows of stitching lengthwise. The stitching holds the material together even during the grappling moments.
Outstanding logo on one end
If you are the kind of combatant that does not like to display the logo of your merchandise, you can hide the Tatami logo easily. These BJJ belts have a patch on one side only.
Pros
Eight rows of high-quality stitching
Sold at a fair price
Made from 100 percent cotton material
Cons
Feels too stiff, so it will take some time to soften.
Gameness Brazilian Jiu-Jitsu Belts
Gameness Brazilian Jiu-Jitsu belts feature in almost all of the best BJJ belt reviews, and it's easy to see why.
Material
These belts are made from 100 percent cotton material. They are 1.5 inches wide, which disqualifies the belt if you are looking for IBJJF approved belts. However, that is a small disadvantage that is more than compensated for by other outstanding factors.
High-Quality Seams
Your Brazilian Jiu-Jitsu belt needs to come with quality stitches. That way, it can withstand the rough grappling in the sport. The Gameness BJJ belts have eight rows of heavy stitches.
Belt Colors
Belts in BJJ come in different colors to signify rank. Whether you want white belts, black belts, or others for your team, you will find them under this brand name. The belt is durable, lasts a long time, and is available in all BJJ colors.
Pros
Very durable construction for rough training sessions
Colors remain bold even after several washes
Cons
It feels too stiff when new, but it softens up later.
RMBR Club 100% Hemp Jiu Jitsu Gi Belt
The RMBR Club Jiu-Jitsu Gi belt is one of the best BJJ belts available from the different choices of material used. RMBR Club makes fightwear that is a notch higher than the competition, as you can see with the 100% hemp belt for BJJ.
Material
These BJJ belts are not made out of cotton-like regular belts. Rather, they are made of hemp, which is four times stronger than cotton. If you are looking for belts that can last decades, you could try the RMBR Club ones.
High-Quality Seams
To complement the strong hemp material, these belts have eight rows of stitches. The quality of the material and the workmanship also determines the quality of the knot that you tie. In this case, once you tie this BJJ belt, it will not become loose or sloppy.
Size and Width
Most of the best belts that we have reviewed here are 1.5 inches wide. However, this one is slightly wider at 1.6 inches. The belt length also runs true to size, starting at 101 inches to 139 inches (10-inch intervals). There might be some shrinkage after washing, but it will be much less than what you would get with cotton belts such as Gold BJJ Jiu Jitsu or Fuji belt.
Pros
High-quality hemp material
Stable colors that do not fade
Cons
Thicker than cotton belts, so it requires some break-in period
Isami Cotton Black Belt
If you're a black belt, you might want to consider an Isami cotton belt. If you look at the brand, you will see that this belt has its origins in Japan. You can also use it for karate and other martial arts.
Material
This is a 100% cotton black belt. Earning your black belt in BJJ is not easy. Therefore, when you eventually get there, you want your belt to be as outstanding as possible. Isami cotton belts are handmade to withstand the test of time.
Quality
This black belt is thicker than most other belts made of the same material. It can last several years. Even with regular washing, the shrinkage is minimal, and the color remains bold and steadfast.
Pros
Durable black belt
Runs true to size with minimal shrinkage after washing
Easy to tie
Cons
The Ultimate BJJ Belts Buying Guide
There are hundreds of brand names, and each claims to offer the best BJJ belts. Therefore, choosing a new one can be daunting.
In this buying guide, we have done the footwork for you.
How to Choose The Best BJJ Belt?
If you follow the guidelines below, you will get a BJJ belt that gives you good value for money:
Brand
Some brand names are better than others. For instance, you might find it easier to trust a Fuji belt because this brand has been around for a long time. If you can, check out how satisfied prior users were with the brand.
Color and Style
BJJ belts are available in a wide variety of shades and colors. Some brands will even sell you a package that has all the colors. Choose a belt whose color won't fade after a short time or after several wash cycles.
Size
The size of the belt should meet the IBJJF standards. The width should be 4 to 5cm, the thickness at least 0.5cm, and the length should be enough to go around your waist twice and leave enough to tie.
Thickness
The BJJ training belts need not have the same thickness. The thickness of the belt depends on the manufacturer. Usually, the thickness of the belt starts at 3mm, but some are 4mm, and yet others are 5mm. 3mm might feel too light, while 5mm belts might feel too stiff.
Hardness
The hardness of a training belt in BJJ depends mostly on the material used to make it. For instance, a hemp belt such as RMBR Club is harder than a cotton one. Therefore, it requires more time to break it in.
Stitching
The best BJJ belts ought to have heavy-duty stitches. As we have seen in our reviews, these belts come in 8 rows of high-quality stitching. Double stitches are even better so that the threads stay intact through all the grappling and pulling in the sport.
Durability
Obviously, when you train in BJJ, you want a belt to last you through its rank. For instance. A white belt should last you through the basic training until you earn your purple belt. Also, materials such as hemp will last longer than poly-cotton.
BJJ Belt Rankings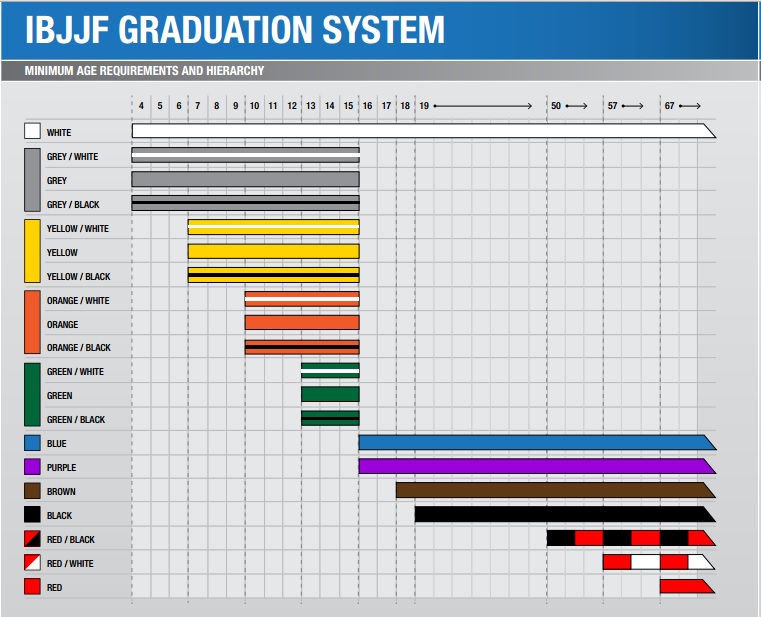 The BJJ belt rankings show the skill level that someone has earned in the Brazilian Jiu-Jitsu combat sport. When you start training, you are given a white belt. This one is given to all BJJ students.
After undertaking a year or two on the mat training BJJ, an adult student earns a blue belt. After gaining enough skill and technical knowledge to instruct lower-ranking students, you can earn a purple belt.
To earn a brown belt, you must spend at least 18 months at the purple belt level. Also, you need to train for at least a year before you can get-go from brown to black.
When you finally earn the black belt, you also earn the title professor. Moreover, this belt level has nine degrees, with the red belt being the highest earned by people deemed to have attained the highest skills in the art. They earn the title grandmaster.
Wrapping Up
That is it for the best BJJ belts. Of course, these belts also come at different prices depending on the brand name, the material used, and the quality of the workmanship.
If you intend to get a durable belt for BJJ training, consider the features first and the price second. It is better to pay more for more features than to pay less for fewer features.
Our overall pick in our list of the best BJJ belts is Hayabusa 2.0 BJJ Belt. The thickness, length, and quality of workmanship are just right.