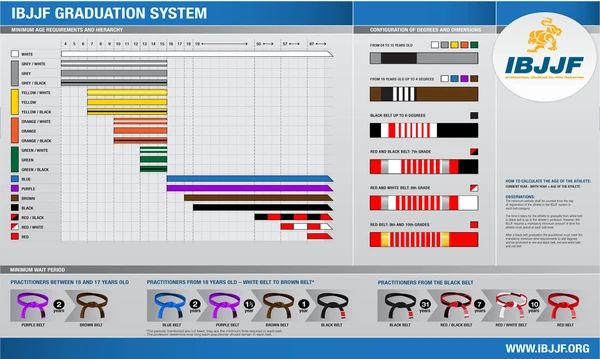 There is a belt system in Brazilian Jiu-Jitsu.
For children under 15, there are only five belts: white, gray, yellow, orange, green.
For those aged 15 and over, the belt system in Brazilian Jiu-Jitsu is as follows:
white,
blue,
purple,
brown,
black,
red-black (sometimes said coral) – 7th degree,
red-white – 8th degree,
red – 9th and 10th degree.
Let's go over the requirements for each of the adult belts in more detail.
How long does it take to earn a black belt in BJJ?
The length of time it takes to earn a black belt varies depending on several factors. A regularly quoted average amount of time to receive a black belt is approximately 8-12 years, but there are many well-known black belts who received their black belts earlier.
Some particularly fast examples include:
Travis Stevens – 18 months
Caio Terra – 3 years
BJ Penn – 3 years
Geo Martinez – 3 years
Gordon Ryan – 6 years
White Belt
Minimum age: Any
Minimum time required at this belt: No minimum
Assigned to all beginners who first step on the mat. As a rule, the coach instructs the white belts to concentrate on practicing defensive techniques and different escapes from submissions and chokeholds. On average, students wear a white belt for 1-2 years.
According to John Danaher, the three most important techniques a white belt should know are escapes, particularly:
Escape from low mount
Escape from side control
Escape from back control
Blue Belt
Minimum age: 16 years
Minimum time required at this belt: 2 years (must be at least 18 years old)
The transformation from a complete beginner to an already understanding and capable jiu-jitsu practitioner. At this stage, students are already familiar with the main set of basic techniques; they sharpen them to the automatism and start learning more advanced ones. IBJJF (the International Federation of Brazilian Jiu-Jitsu) recommends the coaches refrain from giving the student the next belt until they have "walked in blue" for about two years.
One will usually stay a blue belt for 2 – 5 years.
Purple Belt
Minimum age: 16 years
Minimum time required at this belt for athletes aged 18 years and over: 1.5 years
Usually, at this stage, the student begins to pose a real danger on the mat. Essentially (although this is purely a theory), a purple belt already has enough knowledge even to submit a black belt. IBJJF recommends not to give the next Jiu-Jitsu belt until the student has been a purple for about 1.5 years. It is worth mentioning that this is the lowest belt that a Brazilian Jiu-Jitsu instructor can have.
The purple belt, according to Chewjitsu, is a "prototype belt" in which you specialize in certain aspects of your game and start constructing the "tip" of the iceberg when you get to brown and black belt.
According to Firas Zahabi, being a purple belt means you:
Control and submit blue belts regularly
Won't struggle against other blue belts (unless they're also experienced blue belts)
Are a challenge against brown belts
Should know your details, including combinations and complicated positions
Brown Belt
Minimum age: 18 years
Minimum time required at this belt for athletes aged 18 years and over: 1 year
A transitional step from purple to the pinnacle of Jiu-Jitsu, the black belt. Many Jiu Jitsu masters and professors say that, in fact, the difference between a black belt and a brown belt is only time. The time spent on making the techniques and variations learned and the speed of their execution automatic.
The primary goal of the brown belt is to polish your game's rough edges in order to achieve black belt. Brown belts should be able to dominate, control, and submit purple belts, according to Firas Zahabi.
Black Belt in Brazilian Jiu-Jitsu
Minimum age: 19 years
Minimum time required at this belt: 31 years
Official requirements to become an IBJJF certified black belt:

Must provide a first aid and CPR course certificate
Must be IBJJF affiliated
Must attend an IBJJF referee course and score over 60%
Must either be the head or assistant instructor of an IBJJF affiliated gym or practice in a gym with IBJJF affiliation.
Must be promoted by an IBJJF-affiliated 2nd degree black belt instructor
The highest belt in Brazilian Jiu-Jitsu, proving a truly expert level of mastery of various techniques. Instructors who wear the black belt are commonly referred to as "Professor." IBJJF recommends being a brown belt before receiving a black belt for at least a year.
One of the most popular and difficult objectives for BJJ practitioners is to earn a black belt. Some, like John Danaher, consider attaining a black belt to be simply marking your "passage into training adulthood."
"It is a symbol that you can now enter into a more serious phase of learning where you know enough to formulate your own developing approach to the game and begin to teach others. You still have a lifetime of learning and development ahead of you."
In order to receive an IBJJF-certified black belt, there are a number of requirements that must be met. This includes spending the minimum amount of time at each of the other coloured belts, as well as having various qualifications in first aid and competition refereeing. Some organisations, like Gracie Barra, also require black belts to become certified instructors.
In order to be a black belt, you should have expert knowledge of Brazilian Jiu Jitsu. According to various experts, the following are some of the ingredients required:
Dave Kama, a Rickson Gracie black belt, says that being a black belt means you are good at self-defense and know your main techniques very well.
Rickson Gracie, a legendary BJJ and MMA pioneer, believes that professionals who teach black belts should also know how to defend themselves in any situation.
John Danaher believes that black belts should be able to attack effectively all over the body.
Coach Firas Zahabi, who is known for training world-class MMA fighters, says that a black belt should be able to dominate and control brown belts during sparring.
Red-Black or Coral Belt

Minimum age: 50 years
Minimum time required at this belt: 7 years
A black belt that has reached 7th dan (7 stripes) automatically "turns" into a coral belt. The average period of wearing a black belt before receiving a coral belt, according to the IBJJF recommendation, should be 31 years (!!!).
Red and White Belt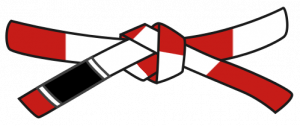 Minimum age: 57 years
Minimum time required at this belt: 10 years
Introduced relatively recently somehow to mark the transition from seventh dan to eighth. If a black belt in the seventh degree (i.e., already coral) reaches the 8th dan, he gets a red and white belt. According to the International Federation of Brazilian Jiu-Jitsu rules, before receiving a red and white belt, a jiu-jitsu practitioner must carry a coral belt for at least 7 years.
Red Belt

Minimum age: 67 years
Minimum time required at this belt: Undefined
A black belt becomes a red belt in the ninth degree. This is currently the highest rank in the Brazilian Jiu-Jitsu belt system. Such a belt was given either to the founders of the sport or to the people who made a truly great contribution to the development and spread of BJJ.
Totally, there are 15 such belts in history. You can find the list here.
10th Dan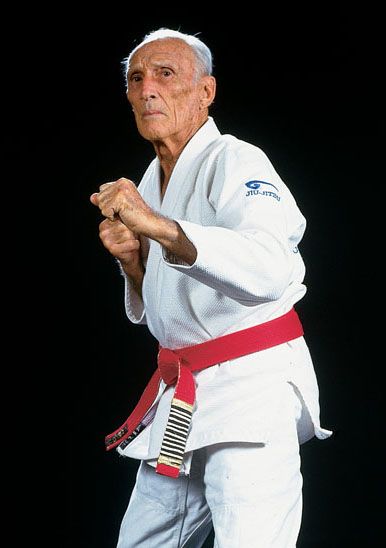 But this belt is impossible to get for average mortals. Red belts in Brazilian Jiu-Jitsu were worn only by pioneers and founders of the sport. There were five of them: Carlos Gracie, Gastão Gracie, George Gracie, Helio Gracie, Osvaldo Gracie.
Stripes in Brazilian Jiu-Jitsu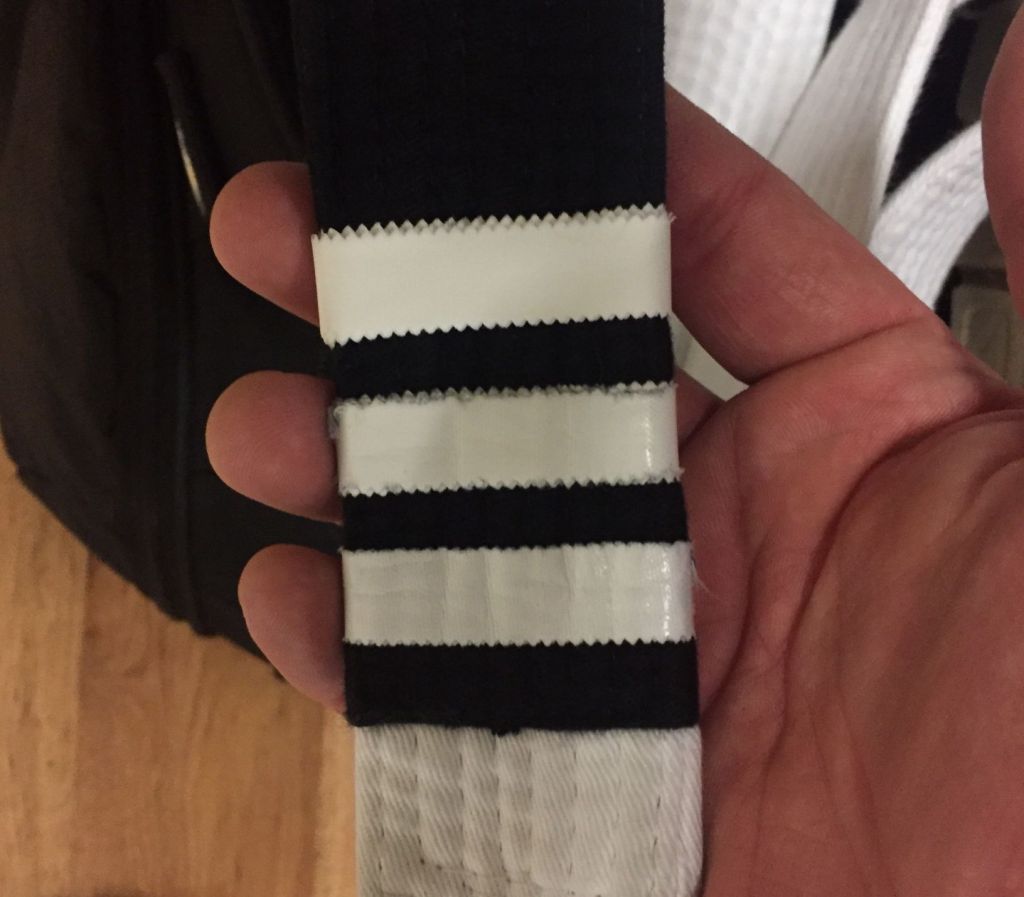 Many schools and academies of Brazilian Jiu-Jitsu also use a stripe system in addition to the belt system, encouraging their students to develop. They are taped with ordinary tape, the same kind you wrap your fingers within training. In essence, a belt that scores 4 stripes is already on the threshold of a new belt certification. Getting the next one is the next step. It is worth mentioning that the presence of stripes in one competitor does not mean that his skills are higher than those of a practitioner without stripes. Stripes in Brazilian Jiu-Jitsu are rather a purely motivational aspect, and coaches give them at their discretion. Some martial arts schools do not use this system at all.
But dans, which are glued like stripes, are a more serious thing, and motivation is not the only thing here.